---
The value and practicality of transporting natural gas in its liquefied state has been recognised around the world for decades, but its deployment in the US has changed recently. LNG terminals were originally planned to receive imported gas, but the fracking boom has turned the idea around, with US producers sending gas abroad to customers around the world.
While the exact configuration of a coastal terminal depends on the licensor, there are some common elements: LNG tankers tie up to jetties extending thousands of feet into the water; and gas from storage tanks, usually located two to three miles away for safety reasons, is fed to tankers via jetty pipelines.
When there is no tanker tied up for filling, there is often nothing flowing between the jetty and the storage tanks. Those miles of pipeline can soak up sunlight and become warm, despite insulation. When a tanker does arrive, it is time to begin the pumping process again, but this has to be a careful procedure. Given the temperature of LNG at -160oC, it is not practical or safe to start pumping all at once as this would subject the piping to a temperature and pressure shock. Therefore, the piping system must be pre-cooled.
Cooling-off period
A typical LNG terminal has two main pipelines running from the compressor and storage tank installation to the loading jetty. The primary pipeline, usually between 8 and 30 in. in diameter, is made of a special aluminium alloy and carries the LNG for transfer. Invariably, there is some boil-off of the liquid as it is being loaded, returning the LNG to its gas phase. This is captured and sent back via a return line where it is compressed again to return it to liquid. With a properly functioning system, almost no gas is lost.
When it is time to restart the loading process, it is necessary to cool the pipe down gradually before hitting it with LNG, even though a compressor can typically provide gas at various pressures and temperatures to avoid a full thermal shock.
This is an abridged version of an article that was originally published in the February 2019 issue of LNG Industry. The full version can be read here.
Read the article online at: https://www.lngindustry.com/liquid-natural-gas/14022019/stay-cool/
You might also like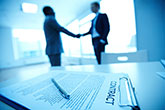 OMV has announced the signing of a long-term sale and purchase agreement with Cheniere Energy, Inc., covering the supply of up to 850 000 tpy of LNG beginning in late 2029.