---
Due to high demand, the LNG market is growing. New players enter it and bring new innovations with them, changing outdated standards. Which trends will grow, and what should companies be aware of to be on top of the LNG business market?
In preparation for the anniversary of the 5th International LNG Congress, project director Natalya Kuznetsova highlights the main points that will influence the LNG industry over the next few years. To check the event program and celebration activities, click here.
LNG as a fuel
With health, safety and environment regulations getting stricter, companies are forced to apply on-board exhaust gas cleaning systems or switch to low sulfur fuel and biofuel. LNG is an inexpensive and environmentally friendly option providing emission reduction at least equivalent to those achieved by other methods. It is widespread: millions of tonnes of LNG are transported across the world by roads, railways, and vessels every year.
Although nowadays LNG shares in the world gas market generally account only for one third, some companies are already looking to increase this. For example, Sembcorp Marine, American Bureau of Shipping, and A*STAR's Institute of High Performance Computing (IHPC) advance the adoption of LNG as fuel, and Skangas already supplies fuel for Gothia Tanker Alliance's LNG-powered vessels. At the same time, Golar LNG is investing in Avenir LNG for future opportunities in the small scale LNG market.
Expansion of terminals
In response to continuous demand, growth for new LNG players is appearing on the market, and old players are developing and extending their field of activities. Companies increasingly rely on LNG terminals and are acquiring new ones, as well as expanding existing ones. According to King & Spalding LLP, there are 22 large scale LNG terminals – nine of which are floating storage and regasification units (FSRUs) being planned in Europe – mostly in countries with existing regasification capacity (i.e. Greece, Italy, Poland, Turkey and the UK). Asia also contributes to the LNG market growth: Tokyo Gas Co. Ltd signed a joint development agreement with First Gen Corp. concerning the construction of the first LNG receiving terminal in the Philippines. It will introduce LNG as an alternative in the gas field, which will be depleted in the near future. So the Asian direction will continue to be a prospect in LNG export for the next several years.
LNG trading models change
There are two principal points in this area. Firstly, LNG is traditionally bought and sold under long-term contracts that tie the supply and delivery of LNG to specific liquefaction and regasification plants. Secondly, LNG contract prices are usually tied up to oil prices, but LNG importers need to be independent from them. It is more reasonable for them now to have an opportunity to switch between oil and gas hub prices at any time.
This traditional approach to LNG contracting is changing, and the first sign of this change is the growth in short-term or spot LNG sales. Short-term sales have been growing steadily in the last 15 years: by 2015, the estimate is that about 27% of sales were of a duration less than four years.
FSRUs: appearance of new markets
New geographic markets will emerge due to FSRUs. In many cases, FSRUs now provide a more cost-effective and flexible way to deliver natural gas to end-users in comparison with shore-based terminals, as gas reserves used to be marooned because of their location or the size of the field. With FSRUs, operators have quicker project timescales, smaller ecological impact, and reduced costs and wider access to worldwide markets. Application of FSRUs allows the adjustment of the timing and volume of LNG import to meet market needs.
FSRU projects, terminal operations, international markets transformation, and other topics will be discussed at St. Julian's, Malta, on 29 – 30 April 2019.
Written by Natalya Kuznetsova, Project Director of the 5th International LNG Congress.
Read the article online at: https://www.lngindustry.com/liquid-natural-gas/14022019/four-trends-to-consider-in-your-lng-strategy/
You might also like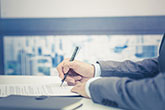 Congo's Ministry of Hydrocarbons has signed a co-operation agreement with Technip Energies that will see the parties expand cooperation in the fields of offshore and onshore energy developments.