---
According to Bloomberg NEF, imports of LNG will set a new record this year on the back of a robust 8.5% growth, according to new research. The rate of growth will slow from 2019 and further in 2020, before picking up again in 2021. Imports will expand at a steady rate during 2021 – 2027, before accelerating again. In 2030, total demand will reach 450 million tpy.
The 'Global LNG Outlook 2018', the latest forecast from Bloomberg NEF (BNEF), shows that LNG demand will be 308 million tpy this year, up from 284 million tpy in 2017. Half of the 24 million tpy of growth will come from China and the remainder largely from Japan, South Korea and India.
The report highlights that Asia will be the core growth region in the coming decade. "The region will add a total of 143 million tpy in 2017 – 2030, accounting for 86% of the world's total LNG demand growth in the period." commented Maggie Kuang, head of Asia Pacific LNG analysis and lead author of the report.
BNEF expects strong demand from China and emerging markets in South Asia to boost global LNG trade in 2019, with 12 million tpy likely to be added. This demand growth will slow down during 2020 – 2021, when Japan restarts its ninth nuclear plant and Russian pipeline gas starts to supply China.
However, any global supply surplus after 2019 is likely to be modest and brief. Ashish Sethia, global head of LNG analysis stated: "Average utilisation of export plants in 2020 – 2021, when post-FID supply capacity peaks, will likely be 87%, which would be the lowest in the past decade, but that only suggests a modest surplus. Post-2021, growth will rebound with South and Southeast Asia becoming the main growth engine due to faster depletion of local gas and significant infrastructure build-out."
BNEF has cut its long-term forecast on European LNG demand (including Turkey) to 60 million tpy by 2030. John Twomey, head of European gas analysis said: "Growth of renewables and batteries will marginalise gas-fired generation in the European power system. This will restrict the growth of LNG imports, despite declines in Dutch and Norwegian gas production. Europe will limit its reliance on Russian pipeline gas imports."
On the supply side, 103 million tpy of new capacity will be added globally during 2017 – 2021. Global post-FID capacity is expected to peak at 392 million tpy in 2021, providing sufficient supply to meet demand to 2025. About 17 projects will likely take FID in coming years, potentially adding 172 million tpy of capacity by 2030. The growth of demand in Asia and a further drive to cut the cost of US LNG will likely lead to some new sales and purchase agreements for US LNG. "About 90 million tpy of 'likely' FIDs in the next few years are from North America, mostly in the Gulf of Mexico" said Anastacia Dialynas, lead LNG analyst, Americas.
Volumes of new LNG term contracts signed each year since 2015 have been stagnating. In the first eight months of 2018, some 7.1 million tpy of supply contracts were signed, the same as a year earlier. The share of short-term (1 – 4 years) contracts went up to 41%, up from less than a quarter over the last decade. This indicates buyers' increasing preference for shorter tenure. BNEF expects contract signing activities to revive from 2021 when existing contracted supply becomes thin. New contracts to underpin FIDs on new supply projects will also need to take place by 2021 to provide sufficient supply capacity post-2025.
Read the article online at: https://www.lngindustry.com/liquid-natural-gas/13092018/asia-to-dominate-long-term-lng-demand-growth/
You might also like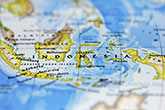 President Joko Widodo has officially inaugurated Tangguh Train 3 in Indonesia.