---
ABS has announced that it has completed a joint development project with GasLog LNG Services Ltd, demonstrating a new approach to evaluating LNG boil-off rate (BOR).
Howard Fireman, ABS Chief Technology Officer, said: "By expanding the application of computational fluid dynamics (CFD) analysis to simulate the LNG BOR in cargo tanks, owners are able to better predict boil-off gas and account for it in future designs and operations of LNG carriers.
"As a technology leader, we are committed to working with industry to drive safer and more efficient operations."
LNG boil-off gas (BOG) is the vapour phase of LNG carried in a cargo tank. Accurate assessment of the rate of LNG BOG generation is crucial for the design of the cargo tank and the BOG processing system. To support this collaborative project, a robust CFD analysis procedure was developed modelling the physics of heat transfer, boiling, phase change and vapour flow. Extensive simulations were run on a representative LNG carrier, and actual BOR measurements were taken to demonstrate the accuracy of the analysis results.
Vassilis Millas, GasLog FSRU Project Engineer, said: "By taking a collaborative approach with ABS on this project, we were able to demonstrate and prove the viability of CFD analysis to determine LNG BOR.
"Being able to predict BOR in various operating conditions will allow us to build efficiencies into future designs."
Read the article online at: https://www.lngindustry.com/liquid-natural-gas/13092017/abs-and-gaslog-complete-joint-development-project/
You might also like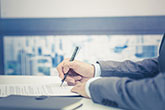 Congo's Ministry of Hydrocarbons has signed a co-operation agreement with Technip Energies that will see the parties expand cooperation in the fields of offshore and onshore energy developments.