---
NextDecade Corp. has released a statement mourning the loss of Kathleen M. Eisbrenner, 58, Founder and Chairman of the Board of Directors.
Matthew K. Schatzman, President and Chief Executive Officer of NextDecade, said: "It is with great sorrow that we announce the untimely passing of our friend and colleague.
"Kathleen was a true energy industry pioneer. We at NextDecade are grateful for her foresight and leadership, without which we would not be where we are today.
"We extend our deepest sympathies to Kathleen's devoted husband, Ray, and the Eisbrenner family.
"All of us at NextDecade are fortunate to have known and worked with Kathleen over the years, and remain firmly committed to the realisation of her vision."
Eisbrenner founded NextDecade in 2010 and led the company to its listing on the Nasdaq Stock Market in July 2017. She served jointly as Chairman and Chief Executive Officer until February last year, and remained as NextDecade's Chairman of the Board of Directors until her death.
Eisbrenner enjoyed a remarkable career, and was widely respected as one of the foremost female executives in the global LNG industry. She was formerly Executive Vice President at Royal Dutch Shell, where she was responsible for the management of the company's global LNG portfolio and LNG trading business.
Before she joined Shell, Eisbrenner was the founder and Chief Executive Officer of Excelerate Energy, focused on developing the floating storage and regasification unit (FSRU) vessel and industry. She also held various senior management positions at El Paso Energy.
Eisbrenner was an Independent Director of EXMAR and a member of the American Bureau of Shipping, JERA's Fuel Business Expert Advisory Board, and Junior Achievement of Southeast Texas. She was also a former member of the Board of Directors of Chesapeake Energy and the National Petroleum Council. Eisbrenner was a proud graduate of the University of Notre Dame, where she earned a Bachelor of Science degree in Civil Engineering in 1982.
Read the article online at: https://www.lngindustry.com/liquid-natural-gas/13052019/nextdecade-mourns-loss-of-founder-and-chairman-kathleen-m-eisbrenner/
You might also like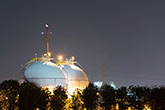 Gate terminal B.V has selected VINCI Construction Grands Projets – Entrepose Contracting, Sener, and Sacyr Proyecta to execute the expansion of the terminal with a fourth LNG storage tank.