---
The 'global large scale LNG terminals market 2018 – 2022' report has been added to ResearchAndMarkets.com's offering.
The global large scale LNG terminals market will register a CAGR of more than 2% by 2022.
The supply surplus coupled with increasing demand is essential for the growth of global liquid commodity market which will subsequently increase market share for global large supply LNG terminals market. In addition, the increasing diversity of suppliers and buyers, rising installation of floating regasification plants and growing liquidity of tradable LNG have resulted in the commoditisation of LNG similar to oil. Therefore, the commoditisation of LNG has increased activities in the market and leverage for the players. This factor should positively impact the growth during our forecast period.
Market overview:
Increasing global energy demand
Natural gas is preferred over oil due to its environmental benefits. In addition, the increasing demand for fuel from developing such as India and China, are likely to people the global large scale LNG terminal market during our forecast period.
Lack of adequate LNG supply chain infrastructure
The lack of infrastructure and investment in building a viable LNG supply chain which fail to support the increasing demand for natural gas. This will hinder the market growth during our forecast period.
Competitive landscape
The large scale LNG terminals market is fragmented owing to the presence of several established and regional vendors. The global commoditisation of LNG has opened up new avenues for the stakeholders. These stakeholders will have a new growth opportunity. This has also raised the level of competition in this fragmented market will further intensify in the coming years. This large scale LNG terminals industry analysis report will help clients in identifying new growth opportunities and designing new growth strategies, in light of the competition available in this domain.
Read the article online at: https://www.lngindustry.com/liquid-natural-gas/12122018/global-large-scale-lng-terminals-market-2018-2022/
You might also like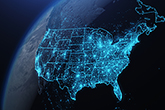 A Seapath and Pilot LNG joint venture will develop, construct, and operate a terminal in the Galveston Bay area supporting LNG-powered vessels.