---
James R. Lowery, Baker Hughes, USA, considers how best to reduce emissions leaked from control valves, in order to better comply with industry standards and requirements.
Throttling valves used for process control are largely identified as a leading source of carbon emissions, contributing up to 60% of total emissions within gas fields, pipelines and hydrocarbon processing facilities. Dynamic operation of control valves and continuous movement of components accelerate internal wear, which eventually leads to the exposure of small leak paths to atmosphere. If left unattended, these leak paths can become a major source of fugitive emissions. On top of the challenges of dynamic operation, LNG applications introduce thermal cycling of temperature that also must be considered, as rapid temperature excursions and material expansions/contractions can also be a major source of increased emissions. In attempt to stay ahead of government regulations, many end-users self-impose stricter internal codes to provide a healthier and safer workplace for both employees and the environment. The conservative approach is often a great step forward towards environmental stewardship and overall plant efficiency. However, if not specified correctly, long-term benefits may not be realised as over-specification can lead to misapplied product for the application. This article will outline several factors to consider for control valve specification, including design attributes to reduce and eliminate potential leaks, such as suitable construction and testing requirements for the application where they are to be used.
Valve selection and design considerations
In order to reduce emissions through a control valve, it is important to understand potential sources of leakage for appropriate valve selection. For a typical control valve, there are three common sources of potential leakage. Figures 1 and 2 break down the following areas found in both reciprocating and rotary control valves:
Stem-seal packing box interface.
Pipeline flange gasket joint.
Body-bonnet gasket joint.
Both reciprocating globe style and rotary style control valves will find the pipe flange gasket joints and the stem-seal packing box interface as potential paths for process fluid leakage into the environment. However, many rotary style control valves include a unique and distinct advantage of an integral body-to-bonnet one-piece connection, thus eliminating that entire location as a leak path. Another advantage of rotary control valves in managing fugitive emissions is the rotating motion of the valve stem as the valve is throttled open and closed. The stem and seal physically stay within the packing area, minimising the possibility of introducing foreign particles or debris into the sealing interface. As a result, these valves are more effective in reducing the possibility of fugitive emissions leakage, and normally deliver greater reliability and operating efficiency from this perspective. For applications that desire ultra-low leakage, rotary valves will offer a distinct advantage and should be considered for specification wherever possible.
In addition to control valve specifications, plant users should follow similar processes to valve suppliers when it comes to preparing the gasket surfaces within their associated piping. This includes providing piping guidelines for design and installation with attention to detail, including the following:
Machining appropriate roughness and serrations of the gasket joint surfaces.
Applying appropriate torque and assembling with the proper sequence to tighten down the bolts.
Proper centring of the gasket as it resides against the seals on the mating surfaces.
This is an abridged version of an article that was originally published in the February 2020 issue of LNG Industry. The full version can be read here.
Read the article online at: https://www.lngindustry.com/liquid-natural-gas/12022020/keep-within-your-limits/
You might also like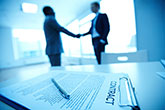 OMV has announced the signing of a long-term sale and purchase agreement with Cheniere Energy, Inc., covering the supply of up to 850 000 tpy of LNG beginning in late 2029.