---
Wärtsilä Gas Solutions took delivery on 28 August of four LNG cargo tanks from the company's supplier in China. The successful completion of this delivery will allow the installation of a complete cargo handling system to proceed on schedule. The system is intended for a new 5400 m3 LNG bunker barge being built at the Fincantieri Bay Shipbuilding (FBS) yard in Wisconsin, US, for Polaris New Energy, LLC (PNE).
The four cargo tanks have internal piping, instruments, equipment and access structures. They also have 300 mm insulation and will be installed below deck on the bunkering barge; only the domes will be visible once completed. Transportation to the yard has required detailed logistics planning. The tanks were moved by barge to Shanghai, where they were loaded onboard the heavy-lift vessel, the BBC Louise for transport to the US. After crossing the Pacific, the ship will pass through the Panama Canal and then head north along the US's eastern seaboard on its way via the St. Lawrence Seaway to the shipyard on Lake Michigan. The ship is expected to arrive in late October as planned, which is in line with the yard's schedule for delivering the barge to PNE end-2021.
"Delivering the cargo tanks as agreed with FBS puts the main piece of the jigsaw puzzle in place. Construction work has been to the highest HSE standards, and we are really satisfied with the quality," says Geir Kirkemo, Project Manager for Wärtsilä Gas Solutions.
The four cargo tanks are each 1350 m3 in size. The Polaris New Energy barge will be the largest vessel of its kind when launched, and will operate as a 'moving gas station' to supply LNG fuelled vessels along the east coast of the US. The LNG will be delivered at a temperature of approximately -160°C.
"The completion, and shipping, of the LNG cargo tanks marks a very significant milestone in the overall project. Fincantieri Bay Shipbuilding greatly appreciates the efforts made by all parties in trying times, and looks forward to receiving the tanks and moving into the next phase of the project," says Pete Sinclair, Program Manager at FBS.
The full Wärtsilä scope for this project includes, in addition to the tanks, the system design and integration, the LNG pumps, a ship-to-ship transfer system, ship to shore communication link, all necessary safety and control equipment, valves, instrumentation, and a gas combustion unit.
Read the article online at: https://www.lngindustry.com/liquid-natural-gas/10092020/lng-cargo-tanks-delivered-for-wrtsil-supplied-cargo-handling-system/
You might also like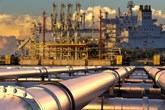 At every stage of the LNG process – from pretreatment to transportation – accurate and reliable measurements are essential for optimising production, maintaining safety, and ensuring profitability.