---
Reuters is reporting that Qatar has shortlisted several international oil companies as potential partners in its expanded North Field LNG megaproject.
Today, the expansion of Qatar's LNG facilities is one of the most lucrative projects in the energy sector. Qatar already leads the industry with a production capacity of 77 million tpy, nonetheless it is looking to expand this capacity further to 110 million tpy over the next five years by adding four new production facilities.
According to Reuters, invitations to bid were sent out in August 2019, as the world's top oil and gas companies vie for a stake in the megaproject. The results of the invitation process are due to be announced in 1Q20, however, according to Qatar's minister of state for energy, Saad al-Kaabi, it is still possible that Qatar will decide to forego partnership entirely.
Kaabi expressed appreciation for the potential benefits of a partnership, but emphasised that Qatar did not need to form a partnership to proceed with the project. The added value for Qatar would appear to be the foundation on which any potential partnership will be built.
LNG assets outside Qatar's domestic market were one area of added value that Kaabi did express interest in, and multiple offers have included terms reflecting this. Indeed, Total, Exxon Mobil, Shell and Eni, have all reportedly offered Qatar stakes in prize assets abroad.
While it is certainly true that Qatar does not 'need' a partner with regards to developing and expanding its North Field project, finding buyers for all the extra capacity it is creating is something that potential partners could offer significant assistance with.
Read the article online at: https://www.lngindustry.com/liquid-natural-gas/10092019/qatar-shortlists-potential-north-field-partners/
You might also like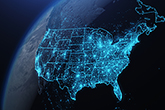 A Seapath and Pilot LNG joint venture will develop, construct, and operate a terminal in the Galveston Bay area supporting LNG-powered vessels.