---
InfraStrata plc has announced that it has entered into an exclusivity agreement with Meridian Holdings Co., to facilitate the development and acquisition of Meridian's floating storage regasification and reloading unit (FSRU) project in the UK.
Background
The FSRU project involves developing a floating LNG (FLNG) receiving port offshore Barrow-in-Furness, Cumbria in northwest England, and is designed to deliver regasified volumes of natural gas directly into the UK market via its own National Transmission System (NTS) interconnection at Barrow-in-Furness.
With approximately 30% of the UK's gas supply expected to come from LNG in the future, the directors of InfraStrata believe the gas markets are providing a strong economic signal to pursue the development of facilities such as this FSRU Project. The FSRU project is currently understood to be the first of its kind in the UK. At a projected capacity of approximately 5 million tpy, the FSRU project will not only add to the UK's security of gas supply but will also help balance the gas network on peak demand days.
The FSRU project currently has planning permission and consenting issued by the Borough of Barrow-in-Furness for its offshore segment, a detailed review of which InfraStrata is currently undertaking. Additionally, land parcels and easements required for the project's onshore above ground installations (AGIs) and pipelines have been duly acquired or are subject to the exercise of option agreements held by Meridian.
Details of the proposal and the agreement
A typical FSRU project such as this would entail a CAPEX investment of approximately £250 million to £400 million, with a construction period of approximately 3 to 4 years. Accordingly, subject to satisfactory due diligence and final contract, InfraStrata, through its wholly owned subsidiary InfraStrata Energy UK Ltd, will be seeking investors to provide the necessary project and investment finance to enable an acquisition of the FSRU project that would include all of the above assets of the FSRU project, in addition to all the engineering data that Meridian has accumulated to date. It is envisaged that the third-party project investors being sought would take equity stakes in InfraStrata Energy UK Ltd, reducing InfraStrata to a minority stake, prior to acquisition of the FSRU project by InfraStrata Energy UK Ltd. Similar to the Islandmagee Gas Storage Project, InfraStrata will seek an ongoing project management role along with a minority equity interest in the FSRU project.
Under the terms of the agreement, InfraStrata will have exclusivity for a minimum of three months (with extensions possible) in order to undertake the necessary technical, commercial and regulatory due diligence required to determine the FSRU project's feasibility. After satisfactory completion of due diligence, InfraStrata will proceed to structure a formal acquisition of the FSRU project by InfraStrata UK Energy Ltd with the backing of consortium investors and/or project financiers. The agreement shall terminate after 12 months, unless terminated earlier pursuant to its terms and there is no guarantee at this stage that any investment in or acquisition of the FSRU project will ultimately proceed.
Under the terms of the agreement, if the parties agree to proceed to a formal contractual agreement following the due diligence phase, staged consideration payments have been agreed as follows:
The issue to Meridian of 25 million new ordinary shares in InfraStrata upon the agreement of a term sheet to proceed with further exclusivity and to negotiate a formal Sale and Purchase Agreement (SPA).
The issue to Meridian of a further 75 million new ordinary shares in InfraStrata at the Final Investment Decision (FID) (FID being when third party project investors commit to funding the development and construction of the FSRU project to achieve commercial operations) and the decision to proceed to FID is at the sole discretion of InfraStrata.
A cash consideration payable upon completion of the acquisition (not expected prior to FID and therefore not prior to the necessary funding being received by InfraStrata Energy UK Ltd) equal to the value of the FSRU project determined by the parties which exceeds the value of the 100 million new ordinary shares in InfraStrata to be issued to Meridian as per 1) and 2) above.
The 100 million new shares in InfraStrata to be issued to Meridian on the terms above would be issued at the volume weighted average market price prevailing for the seven trading days prior to FID.
As announced in its strategy update on 4 July 2019, InfraStrata intends on progressing with multiple projects at various stages in a project's life cycle. The FSRU project not only provides InfraStrata's prospective clients with direct exposure to the UK gas market but also complements InfraStrata's currently on-going Islandmagee Gas Storage Project.
John Wood, Chief Executive Officer of InfraStrata, commented: "We are very pleased to enter into this exclusivity agreement with Meridian Holdings. The UK gas market is witnessing a significant shift in its supply stack and LNG is set to form an important part. As an energy infrastructure company, we are looking at not only building a diverse portfolio of assets but also creating the ability for each asset to complement the others. Such a strategy adds significant trading value to our prospective clients who themselves have a portfolio of energy contracts to monetise."
Read the article online at: https://www.lngindustry.com/liquid-natural-gas/10072019/infrastrata-to-develop-uk-fsru-project/
You might also like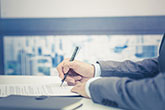 In its efforts to further boost natural gas utilisation in the country and enhance Nigeria's gas revenue, NNPC Ltd has signed two major agreements to deliver LNG to the domestic gas market and the international LNG market.