---
The Ministry of Industry and Trade has issued Decision No. 01/GCNDDK-BCT certifying that Vietnam Gas Corporation – joint stock company (PV GAS) is eligible to be an LNG importer and exporter. Thus, PV GAS has become the first company in Vietnam to be recognised as being eligible to export and import LNG.
PV GAS is a member unit of the Vietnam Oil and Gas Group (PVN) operating in the gas industry, with the main activities: storage, transportation, import, and distribution of gas products, including: dry gas (natural gas), liquefied petroleum gas (LPG), compressed natural gas, and LNG.
LNG is a low-emission, environmentally-friendly form of energy. With its special advantages, LNG has the potential to gradually replace the traditional energies of industrial producers including coal, fuel oil, and diesel, as well as supplement domes-tic gas sources being exploited, most of entered a period of decline.
PV GAS has completed the construction of ready infrastructure for LNG import, export, and trading, with the LNG Thi Vai Terminal Project ready to be put into use this year. The project includes:
LNG storage to complete phase 1 with a capacity of 180 000 m3 of LNG, with a capacity of 1 million tpy of LNG through the warehouse.
Phase 2 is expected to increase the capacity to 3 million tpy of LNG.
The LNG import port is capable of receiving LNG ships with a tonnage of up to 100 000 DWT and the LNG export station by tank truck will also be completed soon at the same time as the trial run of Thi Vai LNG Storage. Other component projects are also being accelerated, all of which have reached completion milestones such as the Thi Vai-Phu My LNG pipeline project, the Thi Vai pressure reducing station project.
With the official grant of the certificate of eligibility for LNG importer and exporter by the Ministry of Industry and Trade on 5 May 2023, PV GAS is the first unit to trade LNG in Vietnam, marking a step PV GAS's new development in gas business.
Read the article online at: https://www.lngindustry.com/liquid-natural-gas/10052023/vietnam-gas-corporation-eligible-for-lng-import-and-export/
You might also like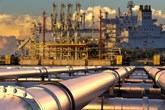 At every stage of the LNG process – from pretreatment to transportation – accurate and reliable measurements are essential for optimising production, maintaining safety, and ensuring profitability.