---
The Alaska LNG project has reached a historic milestone as BP Alaska and Alaska Gasline Development Corporation (AGDC) announced that the two parties have agreed to key terms of a gas sales agreement, including price and volume.
The parties anticipate finalising a long-term gas sales agreement in 2018 for AGDC to purchase BP Alaska's share of 30 trillion ft3 of gas from the Prudhoe Bay and Point Thomson units. BP operates the Prudhoe Bay field – the largest oil and gas field in North America and owns a 26% share of Prudhoe Bay as well as a 32% share of the nearby Point Thomson field.
"BP has a long history in Alaska and Prudhoe Bay," said Bob Dudley, BP Chief Executive. "We are very pleased to be part of the State's vision to bring Alaskan natural gas to new and expanding markets globally. We think this is good for the State, good for BP, and good for the environment."
"The Alaska LNG project has made significant progress over the past year, and BP is pleased to sign this agreement," said Janet Weiss, BP Alaska President. "This is an important project for the future of the Alaska oil and gas industry."
This development comes just six months after President Donald Trump and President Xi Jinping witnessed the signing in Beijing of the five-party joint development agreement to monetise Alaska's natural gas.
"This gas sales agreement is a significant factor in progressing the Alaska LNG Project," said AGDC President Keith Meyer. "We have secured the customers, we have progressed on the pipeline build with regulators and the finance community and now we have a commitment that there will be gas to sell and put through the pipeline. I look forward to continued negotiations to secure supply from other North Slope producers."
Read the article online at: https://www.lngindustry.com/liquid-natural-gas/10052018/bp-and-agdc-closing-in-on-a-long-term-gas-sales-agreement/
You might also like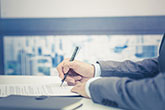 In its efforts to further boost natural gas utilisation in the country and enhance Nigeria's gas revenue, NNPC Ltd has signed two major agreements to deliver LNG to the domestic gas market and the international LNG market.