Total and PitPoint.LNG to build multi-fuel station in the Netherlands
Published by Will Owen, Editor
LNG Industry,
---
Total Nederland and PitPoint.LNG have started construction of a new multiple-energy truck station at the new A1 business park in Deventer, the Netherlands.
Alongside the traditional fuels on offer, this multiple-energy station will at first be equipped with the cleaner fuel LNG. The station contributes to meeting Total's objective to grow in low carbon solutions that help its customers to reduce their CO2 emissions.
The multiple-energy truck station, planned to be operational December 2020, will be built on the grounds of the brand-new A1 business park in Deventer, which is within 500 m of the A1 motorway, via exit 24. This is an advantageous location for road transportation in the Netherlands and cross-border transport heading to Germany.
The multiple-energy station will be open 24/7. There will be two LNG-pumps allowing trucks to fill up at the same time. The most recent LNG innovations are also included: extra cold LNG, especially for Volvo trucks; and a digital display with LNG filling instructions in 11 languages so that drivers from many different countries can re-fuel at the station with ease. Finally, the new TOTAL multiple-energy station is located next to a secured truck parking lot that also gives access to showers and Wi-Fi, making this station a full-service stop.
The new LNG station of PitPoint.LNG will be the first LNG station at a TOTAL station in the Netherlands. As part of TOTAL's new multiple-energy station, where LNG, diesel, and AdBlue® will be offered, the design of the station is also leaving room for the potential of dispensing hydrogen in the future.
"This project fulfils our objective to grow in low carbon solutions. The transportation sector really needs to become cleaner. We see LNG as the right transition fuel for heavy road transport and it can be used now to start reducing CO2 emissions. Our TOTAL Card already allows truck drivers to fill up at four different LNG locations in the Netherlands. We're proud that – together with PitPoint.LNG – we will soon be able to offer cleaner fuel for road transport ourselves as well. That's how we can build a cleaner future for everyone", says Marja Versleijen, Director of Mobility & New Energies at Total Nederland.
Read the article online at: https://www.lngindustry.com/liquid-natural-gas/09092020/total-and-pitpointlng-to-build-multi-fuel-station-in-the-netherlands/
You might also like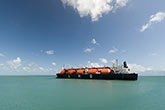 Furetank has turned a former office building into a maritime educational centre with a simulator complex for training, assessment, and certification in Donsö, Sweden.