---
Woodside has announced that the estimated gross contingent resource (2C) dry gas volume for the Scarborough field has increased to 11.1 trillion ft3 (100%; 8.3 trillion ft3 Woodside share), up 52% from 7.3 trillion ft3 (100%; 5.5 trillion ft3 Woodside share).
Woodside's interest in Greater Scarborough (covering the Scarborough, Thebe and Jupiter fields) comprises a 75% interest in WA-1-R (which contains the majority of the Scarborough field) and a 50% interest in each of WA-61-R, WA-62-R and WA-63-R. Woodside is the operator of these retention leases.
As a result of the Scarborough resource volume increase, Greater Scarborough contains an estimated gross dry gas contingent resource (2C) volume of 13.0 trillion ft3 (100%; 9.3 trillion ft3 Woodside share), a 41% increase from the previous 9.2 trillion ft3 (100%; 6.4 trillion ft3 Woodside share).
The increased volume estimates follow completion of integrated subsurface studies incorporating full waveform inversion (FWI) 3D seismic reprocessing and updated petrophysical interpretation. The new FWI 3D seismic reprocessing improved the reservoir imaging quality and increased reservoir sand distribution. In addition, a comprehensive integrated review of the wireline log data and measurements from special core analysis has increased net sand proportion and gas saturations. Assurance of this work has been provided by an external independent reserves auditor.
Woodside's overall Corporate Contingent Resources (2C) have increased by 503 million boe to 6.02 billion boe.
Woodside is targeting a final investment decision for the development of the Scarborough gas resource in 1H20. Scarborough gas would be initially processed on a deep-water floating production unit and transported through an approximately 430 km pipeline to a proposed second LNG production train at the existing Woodside-operated Pluto LNG facility on Western Australia's Burrup Peninsula.
Woodside CEO Peter Coleman said the increase in estimated resource volume at Scarborough underscored its potential as a world-class project which could meet growing demand for gas in Asia and beyond, as well as supplying the domestic market in Western Australia.
"Our understanding of the value of the Scarborough gas resource has increased after applying leading-edge technology to geophysical data collected since the field's discovery almost 40 years ago.
"By unlocking the huge potential of the Scarborough gas resource we've strengthened the case for development and extended the expected cashflow from Scarborough for years.
"This resource upgrade further improves Scarborough's existing value proposition as we target the delivery of a new, globally competitive LNG project from 2024," he said.
Read the article online at: https://www.lngindustry.com/liquid-natural-gas/08112019/scarborough-resource-volumes-increase/
You might also like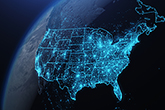 A Seapath and Pilot LNG joint venture will develop, construct, and operate a terminal in the Galveston Bay area supporting LNG-powered vessels.