---
Bernadette Cullinane and Nye Hill, Deloitte, Australia, outline how and why emerging markets are the next big opportunity for LNG.
Once upon a time, LNG was an exclusive club. It was governed by strict parameters, with relatively few producers operating out of select locations and selling to a small but captive audience under binding, bilateral offtake agreements. Given high project development costs, LNG supply contracts were by necessity long-term, averaging 20 years. What's more, to provide a level of comfort from a buyer perspective and to aid price discovery, LNG contracts were indexed to the oil price, an established benchmark. Buyers, typically utilities with long-term service commitments, turned to LNG for security of supply, contracting to buy large volumes of gas over multi-year time horizons.
Building a position in LNG – whether a liquefaction facility on the production side or an import terminal on the customer side – was prohibitively expensive and a pipe dream for most countries. Only a few buyers had deep enough pockets to afford to buy LNG, the balance sheet to finance the necessary infrastructure, and the risk appetite to manage such complex projects. 'Making a market' in a world defined by high cost structures, operating risks and lack of flexibility was out of reach for most.
Spin forwards 15 years and the market landscape is dramatically different. It has become more like a patchwork quilt of many LNG buyers and sellers, each with different needs and characteristics. A once opaque commodity with limited scope for growth beyond regional demand centres has become a globally traded commodity business with many active players – producers, traders and buyers – all interacting in a complex web.
Increased supply competition, the emergence of a liquid, globally traded spot market, the shift towards short-term, flexible contracts, the advent of low capital-intensity gas import technology and low carbon energy policies, have all helped to unlock a new customer dynamic for LNG.
This is particularly evident in Asia, the hottest customer market for LNG. China, India, the Philippines, Thailand, Vietnam and Bangladesh are all building gas import infrastructure to feed their economic machines. These countries are looking to increase the share of gas in their national energy mix, broadening and deepening the customer base for LNG producers. While Asia has the big numbers and the growth momentum, other new customer markets are emerging. As the Asian wave rolls up the shore, Central America and Africa are in prime position to be the next frontier markets.
For many countries embracing LNG for the first time, gas plays an integral role in their clean energy transition as a low carbon alternative to coal. Environmental benefits aside, gas is a reliable energy source underpinning economic growth, a building block facilitating urbanisation and a prerequisite for rising living standards.
With demand growth in LNG's traditional customer markets capped by competing fuels, energy efficiency programs, infrastructure constraints and slowing economic growth, emerging markets represent the biggest growth opportunity for LNG producers. Strong economic growth, together with powerful demographic trends and a desire for clean energy, translates to a potentially very large LNG customer base.
With more countries able to participate in LNG trade than before, there is an infinitely broader and more complex customer narrative shaping LNG today. This is influencing all aspects of the industry: pricing, contractual terms, infrastructure development, investment decisions, service offerings, operating models, marketing/commercial strategies and the rate of technology innovation.
This is an abridged version of an article that was originally published in the November 2019 issue of LNG Industry. The full version can be read here.
Read the article online at: https://www.lngindustry.com/liquid-natural-gas/08112019/a-new-market-emerges/
You might also like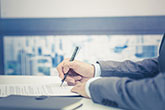 QatarEnergy has signed an agreement with HD Hyundai Heavy Industries for the construction of 17 ultra-modern LNG carriers.