---
Carnival Corp. & plc has announced that it has commenced construction of the world's first fully LNG-powered cruise ship.
The vessel is the first of seven next-generation cruise ships that will be fully powered by LNG. The keel-laying ceremony was held at Seatrade Europe in Hamburg, Germany. The vessels will be constructed by leading German and Finnish shipbuilders Meyer Werft and Meyer Turku. With delivery dates between 2018 and 2022, they will be the first ships in the cruise industry that can use LNG to generate 100% of their power both in port and at sea.
The President and CEO of Carnival Corp., Arnold Donald, said: "Today marked a significant milestone in the construction of this next-generation of Carnival Corp. ships featuring our 'green cruising' design, which will be the most environmentally friendly ships in our company's history.
"We are committed to continuing to reduce air emissions and improving air quality by evaluating both new and established solutions, including LNG. We are proud to be on the forefront of advancing LNG as a fuel source for the cruise industry, and we appreciate our long-standing partnership with Meyer Werft and Meyer Turku. We look forward to the delivery of these beautiful and innovative ships that will help us meet our top goal – to provide extraordinary vacation experiences for our guests that exceed all of their expectations."
The CEO of Meyer Yards, Bernard Meyer, added: "We thank Carnival Corp. and AIDA Cruises very much for their trust and their pioneering decision to implement LNG technology on board their cruise ships.
"The corresponding infrastructure is now being developed at numerous ports – Carnival Corp. has made a decision that not only benefits the environment, but that also is highly important for the whole cruise industry."
Following AIDAnova's introduction next year, Carnival Corp.'s Costa Cruises brand will introduce the industry's next cruise ship that can be powered completely by LNG on the open seas in 2019. The first steel-cutting ceremony for this vessel is scheduled to take place at the Meyer Turku shipyard in the coming week. LNG-powered vessels for Carnival Cruise Line and P&O Cruises (UK) will follow in 2020. Costa Cruises and AIDA Cruises will both receive an additional LNG-powered ship in 2021, followed by an additional LNG-powered ship for Carnival Cruise Line in the following year.
In October last year, Carnival Corp. signed a framework agreement with Shell Western LNG B.V. to be its marine LNG supplier to power its first two LNG ships for AIDA Cruises and Costa Cruises. As part of this agreement, both vessels will make use of Shell's infrastructure in cruise ports to refuel with LNG throughout their journeys. Both vessels feature dual-fuel engines, and are the first of a new-generation of cruise ships fully powered by LNG while in port and at sea.
In 2015 – as a pilot project – AIDAsol (from the company's AIDA Cruises brand) was the world's first cruise vessel to be supplied with power by an LNG hybrid barge. The following year, the AIDAprima became the first cruise ship to regularly use LNG with a dual-fuel powered engine while in port. AIDAperla, the vessel's sister ship, was introduced in April 2017, and uses the same technology.
Read the article online at: https://www.lngindustry.com/liquid-natural-gas/07092017/carnival-starts-building-worlds-first-fully-lng-powered-cruise-ship/
You might also like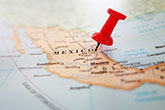 Mexico Pacific Limited and Woodside have signed a sales and purchase agreement for 1.3 million tpy of LNG for 20 years.