Höegh Esperanza commissioning for FSRU operations in Tianjin
Published by Will Owen, Editor
LNG Industry,
---
Höegh LNG Holdings Ltd. (Höegh LNG) has announced that Höegh Esperanza has arrived at the Tianjin LNG terminal in China and has started commissioning for FSRU operations. Höegh Esperanza is currently serving a three-plus-one year FSRU/LNGC time charter with CNOOC Gas & Power Trading and Marketing Ltd. (CNOOC).
Under the contract, Höegh Esperanza will be utilised in FSRU mode for a minimum period each year, with the balance of the year in LNG carrier mode and/or FSRU mode. The rate structure corresponds to the mode of use, with an anticipated annualised EBITDA contribution when in FSRU mode of approximately US$33 million.
The FSRU Höegh Esperanza was delivered from Hyundai Heavy Industries in April 2018 and entered the contract with CNOOC in June 2018. This high-specification FSRU has both open and closed loop regasification capability, an import capacity of around 6 million tpy of LNG and storage capacity of 170 000 m3 of LNG. It is equipped with a GTT Mark III membrane containment system and dual-fuel diesel-electric propulsion, providing it with full LNGC trading capabilities.
Sveinung J.S. Støhle, CEO & President of Höegh LNG, commented: "We are proud to assist CNOOC in enabling China to import more attractively priced LNG. Following an aggressive coal-to-gas switch, China's LNG imports look to increase by almost 50% in 2018, and the potential for further increases in LNG imports remains significant. Combined with the sale-and-leaseback financing for FSRU #10 secured earlier this year, this FSRU/LNGC contract for Höegh Esperanza with CNOOC reflects Höegh LNG's commitment to the Chinese market, and our ambition to remain the preferred partner for future LNG import expansions."
Read the article online at: https://www.lngindustry.com/liquid-natural-gas/06112018/hegh-esperanza-commissioning-for-fsru-operations-in-tianjin/
You might also like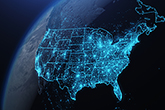 A Seapath and Pilot LNG joint venture will develop, construct, and operate a terminal in the Galveston Bay area supporting LNG-powered vessels.