Wood Mackenzie provides an analysis of the latest South Korean natural gas supply plan
Published by Will Owen, Editor
LNG Industry,
---
In early April 2018, the Ministry of Trade, Industry, and Energy of South Korea released its 13th Long-term Natural Gas Supply plan for 2018 – 2031. The gas plan acts as a follow-up to the 8th Long-term Electricity Supply and Demand Plan released late last year. Kiah Wei Giam, principal analyst, Wood Mackenzie has written a commentary exploring this development:
"The release of the long-term electricity plan last December had braced LNG suppliers for the disappointing demand growth in what is now the world's third largest LNG market. The initial optimism of LNG suppliers when President Moon was elected has been replaced with the recognition that more is needed to be done for gas to displace coal and nuclear.
The 13th Plan forecasts that by 2031, gas demand will reach 40.5 million t, just 3 million t up from 2017 levels. While the 8% growth over 14 years looks disappointing, the latest forecast is already a major upgrade over the 12th gas plan. Under the previous gas plan which forecasted up to 2029, gas demand reached 35 million t by 2029.
Indeed, gas demand will fall before growing again post 2025, due to the additions of coal and nuclear capacities between now and 2023. Our analysis forecasts 4 GW and 5 GW net additions (new capacities minus retirements) for coal and nuclear respectively over the next five years. These new builds are already under construction and approved under the 8th Electricity Plan.
With the electricity market facing oversupply over the next few years, it will be even harder for gas to displace coal or nuclear based on pure economics. Government's policies limiting coal or nuclear generation will help. In the 8th Plan, all coal units that are over 30 years of age will be required to shut down in spring where electricity demand is low. Based on our initial analysis, even with gas-friendly policies in place, gas demand will still decline, hitting a trough of 34 million t in the 2022/23 period.
Gas demand will turn the corner post 2024 as 4 GW of coal and 5 GW of nuclear are retired between 2024 and 2031. Additionally, as per the 8th Electricity Plan, no new units of coal nor nuclear will be added beyond those that are approved.
Another upside to gas demand could come from the shortfall in renewables. While we expect solar and wind generation to grow by nine times between 2017 and 2031, the increase is still insufficient to meet electricity demand growth. The government targets renewables to account for 20% of the electricity generation by 2030 while we forecast the share will only reach 15%. As such, gas will be needed to make up for the shortfall. Hence, we expect gas demand to reach 42 million t by 2031, around 2 million t higher than the government's forecast.
While the latest gas plan does not live up to early expectations, it is more positive for gas than the 12th Plan. The 13th Plan also confirms the increasing role of gas in the electricity generation mix as outlined in the 8th Electricity Plan. Lowering of tax on LNG imports or introducing environmental dispatch which includes emission costs would increase the competitiveness of gas, and, if implemented, will provide upside to gas demand. President Moon may not have delivered on his electoral promise to substantially increase the share of gas in overall generation mix, but he has successfully laid the foundations for gas to take centre stage in South Korea's future energy mix."
Read the article online at: https://www.lngindustry.com/liquid-natural-gas/06042018/wood-mackenzie-provides-an-analysis-of-the-latest-south-korean-natural-gas-supply-plan/
You might also like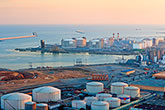 KPI OceanConnect, Titan Clean Fuels, and SFL have successfully conducted the first LNG bunkering operation for the car carrier Emden in the Port of Emden.