---
The most prominent challenges, developments and solutions in the global tank terminal industry have been announced as the focus of StocExpo Europe 2019 when it returns to the Ahoy in Rotterdam on 26 – 28 March. IMO 2020, the rise of new technologies – AI, cyber-security and automation – geopolitical uncertainty and the energy transition, make up the key themes that will be discussed during the three-day conference and exhibition.
One of the key themes at the conference will be IMO 2020, the regulation for a 0.50% global sulfur cap on marine fuels which comes into effect on 1 January 2020. Cüneyt Kazokoglu, Director of Long-Term Oil Service and Head of Oil Demand at FGE, will present a session on how IMO 2020 will impact global crude oil on the first morning of the three-day conference. Mark Williams, Managing Director at Shipping Strategy, will use his presentation, titled 'Are you ready for IMO 2020?', to address the questions many are asking with respect to fuel costs and fuel availability. He will also discuss the characteristics of the new fuels on the market, including marine gasoil (MGO), very low sulfur fuel oil (VLSFO) and LNG, as well as how the cap is going to be enforced. In addition to technical and operational issues, those in attendance at StocExpo Europe 2019 will have the chance to reflect on the commercial and contractual issues caused by this global piece of legislation.
The entire second day of the CPD-certified conference programme is dedicated to discussions surrounding 'The Terminal of Tomorrow'. Steven Van Belleghem will be delivering the keynote talk on how to win business in a world increasingly driven by AI, robots and automation. The world-renowned motivational speaker will identify and expand upon the three areas of investment decision-makers must focus on if they are to lead AI first companies; data leverage, effortless user interfaces and augmented intelligence. Shell's Terminal Manager, Matthew Hudson, and leading experts from Siemens, Vortexa and the Port of Rotterdam will also engage in a panel discussion on ways to future-proof the tank terminal sector. This conversation will, amongst other things, consider how the industry can secure itself against cyber security threats. This theme will be given exclusive attention in a presentation delivered by Ilya Tillekens and Marcel Jutte of Hudson Cybertec, earlier on in the day.
In addition to industry-wide discussions on the latest technologies, StocExpo Europe 2019 will also see its conference speakers and exhibitors demonstrate how technology is being harnessed to develop world-leading products and services. For instance, Ronald Backers, Business Intelligence at the Port of Rotterdam, will present advice on how to transform a port's operational environment through digital strategies. Wilfried Kleiser, Senior Project Manager at Siemens, will follow this with a session on how Internet of Things (IoT) can be used to improve efficiency at the terminal. Implico, the oil and gas specialist, is also exhibiting at StocExpo, bringing with it the latest software solutions, data services and cloud technologies that have been developed for storage and distribution networks. These solutions have all been designed to boost automation and digital transformation in the downstream oil and gas industry.
Implico urges the industry to start its digital journey, as do MoniTank and Agidens, both of whom are exhibiting at StocExpo Europe 2019. The latter is launching its ATALK safety technology at the event, an automated safety solution that enables critical alarm messages to be sent to responsible operators on site at tank terminals or chemical plants. By using the system, manual action to transmit such messages is no longer required, thus removing delays and the potential for human error. This kind of automated technology will also be showcased in MoniTank's underground storage tank risk mitigation system. The product is capable of transmitting the condition of tanks online and to defect-recognition software making remote inspection possible, removing the need for decommissioning or downtime monitoring activity.
The final industry trends to be explored at StocExpo Europe 2019 are the energy transition and geopolitical uncertainty. Jean-Baptiste Renard, CEO at 2PR Consulting, will share his vision of the strategic options all oil majors should be engaging with in light of the industry upheaval bought in by the global decarbonisation agenda. The impact of geopolitical uncertainties for the tank terminal industry will be reflected upon by Andras T. Peller, Director at Swiss Fire Protection Research and Development AG, who will speak about protecting storage tank installations in conflict zones. Attendees of Peller's talk will learn about the ways in which newly developed technologies, such as the Pressurized Instant (Pi) Foam fire system, work to safeguard against the damage caused at refineries or massive storage tank facility ranges by sabotage attacks.
Mark Rimmer, StocExpo & Tank Storage Portfolio Divisional Director, comments: "StocExpo has its finger on the pulse when it comes to satisfying interest in the hot topics within the tank terminal industry. This is what brings industry professionals in their thousands to the event every year."
Over 200 exhibitors and more than 30 conference speakers, including CEO's, Terminal Managers and Analysts from industry-leading organisations like Shell, will contribute to the pool of thought-leadership on show. StocExpo Europe 2019 will provide an unrivalled opportunity for all in attendance to access in-depth sessions, presentations and debates on the most pressing industry-related challenges and solutions of the moment. Mark Rimmer continues: "Terminals, traders, oil majors, investors and others will have the chance to learn from one another, share best practice and benefit from a range of networking opportunities."
Read the article online at: https://www.lngindustry.com/liquid-natural-gas/06032019/stocexpo-europe-2019-announces-key-industry-topics/
You might also like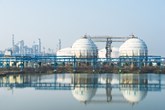 Accurate flow rate measurement during LNG liquefaction is essential. But how do you know if your flow meter can handle potential pressure drops, temperature changes, and the extreme conditions of the cryogenic process? Download Panametrics' new case study to learn how its flow meters can deliver extremely accurate LNG flow measurements.