---
Bernadette Cullinane and Nye Hill, Deloitte, Australia, take a detailed look at the current state of affairs in the global LNG industry, with particular focus on Asia.
Time and tide waits for no one, according to the English poet and author Geoffrey Chaucer. The dynamic and changing LNG industry similarly waits for no one.
Over the past decade, LNG has experienced a tremendous evolution. Once a regional fuel characterised by binding, inflexible and long-term bilateral supply contracts, LNG is now rapidly becoming a global commodity, fuelled by: increased flexibility, liquidity and sophistication; a more diverse set of suppliers and buyers; and increasing trading activity.
LNG in Asia Pacific is now at an interesting crossroads. While there is much support for gas as the critical bridging fuel to the brave new world of clean energy, short-term bears are ascendant. This year has been a challenging one for gas pricing, producer earnings and project sanctions. The Asian LNG spot price has slumped from US$12/million Btu in October to, at the time of writing, US$5.40/million Btu, a 33% decline on an annual basis. It is a global trend. US benchmark Henry Hub is down 6.5% yr/yr at US$2.62/million Btu, while the European price benchmark, Dutch TTF, is down 25% yr/yr, at US$4.70/million Btu.
What is behind the collapse in Asian LNG prices?
The Asia gas price story is attracting all of the headlines, but a closer inspection of underlying market fundamentals is enlightening. Volumes from newly producing projects, including Ichthys LNG and Prelude floating LNG (FLNG) in Australia, Yamal LNG Train 3, US Cove Point and US Corpus Christi have hit the market hard. Furthermore, according to Wood Mackenzie, a record 38 million t (or 12%) of additional LNG supply will come into the market this year. Warmer winter temperatures and growth in gas storage capacity means gas inventories in Asia are high. LNG is facing increased competition from pipeline gas and alternate energy sources, dampening Asia's appetite for LNG.
Each country has different customer dynamics. The restart of several nuclear reactors is a factor behind the 10% yr/yr decline in Japan's 2018 LNG imports. South Korean gas storage growth facilitated 20% cuts to Q1 LNG annual imports. China's 'blue sky' policy designed to improve air quality saw it become the world's second biggest LNG importer last year. A decline in Chinese spot LNG purchases in recent months followed. Buyers are opting for the security of forward contracts to manage supply shortage. Projecting forward, pipeline gas from Russia via the landmark 'Power of Siberia' deal will likely dampen China's LNG imports. China's gas storage and processing capacity bottlenecks will limit the gas it can absorb in the short-run.
Outside country issues, there is also the lagging impact of oil-linked LNG prices, a hangover from 2018 when Brent prices ended the year at barely above US$50/bbl.
This is an abridged version of an article that was originally published in the July 2019 issue of LNG Industry. The full version can be read here.
Read the article online at: https://www.lngindustry.com/liquid-natural-gas/05072019/time-to-stay-strong/
You might also like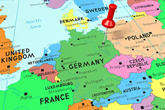 EnerMech and Offshore Technical Services have expedited the initial phase of a vital LNG import project in Germany, enhancing energy security and addressing the broader European energy crisis, with their services contributing to the successful completion of the project's construction phase at the port of Brunsbüttel.