---
National Grid Grain LNG has launched an 'open season' process for customers interested in buying capacity at its LNG storage facility from 2025.
Grain LNG is seeking industry feedback on a new service proposal during an initial consultation phase between 1 November 2019 and 10 January 2020.
The market is invited to place legally binding bids for the capacity by 10 March 2020, and Grain LNG is expecting to allocate capacity by the end of March 2020.
The open season offers market participants a brand-new capacity opportunity, following the expiry of the long-term contracts that underpinned the original construction and development of the Grain LNG terminal.
The capacity on offer will be a mix of existing and newbuild infrastructure, and could increase Grain LNG's total site storage to 1.2 million m3 and total regasification capacity to approximately 780 GWh/d – equivalent to more than 30% of the UK's gas demand. By optimising existing assets, Grain LNG expects to be able to offer market participants flexible and competitively-priced capacity.
Positive feedback to a recent 'Expression of Interest' exercise enabled Grain LNG to create two distinct service types:
A 'Base User' service, which is designed for parties looking to take a significant undertaking in the terminal, with the flexibility to store and send out as required. The Base User will be entitled to 48 berthing slots, 200 000 m3 of working storage and a regasification capacity of 140 GWh/d, throughout a 15 to 25-year contract.
A 'Package User' service, which offers customers a series of 10 day 'packages', entitling parties to berth, unload, store and send out LNG – with no minimum send out obligation. The 'Package User' service includes 9, 18 or 27 berthing slots per year, working storage of up to 180 000 m3 and 120 GWh/d for a period of 10 days. The Package User will have maximum optionality in deciding when to bring cargoes to the UK.
Nicola Duffin, Grain LNG's Head of Commercial, said: "We're really pleased with the high level of interest shown by the market. It has allowed us to engage with potential customers and shape our offering to best meet their needs, whilst optimising access to this strategic asset.
"This is an exciting time for Grain LNG, as we prepare to offer capacity that will allow customers to secure long-term access to the National Balancing Point. Grain LNG will continue to provide a reliable service to our current capacity holders and play a key role in ensuring gas security of supply for the UK."
Following final bids in March, Grain LNG expects to award capacity in 1Q20.
Read the article online at: https://www.lngindustry.com/liquid-natural-gas/04112019/grain-lng-launches-open-season-for-capacity-from-2025/
You might also like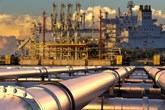 At every stage of the LNG process – from pretreatment to transportation – accurate and reliable measurements are essential for optimising production, maintaining safety, and ensuring profitability.