---
REGI U.S. Inc. and its wholly owned subsidiary, RadMax Technologies Inc., have announced the signing of a memorandum of understanding (MoU) with Trans Gas Solution (TGS), a South Korean, global LNG solution provider.
According to the statement, the MoU was signed by executives of both companies at Gastech 2019 in Houston, Texas, and will be used to guide the development of RadMax rotary, axial vane devices for a variety of groundbreaking LNG projects and applications over the upcoming year.
Paul Porter, CTO of RadMax Technologies, said: "The MoU describes and confirms the companies' decision to collaborate on the development of RadMax devices, custom designed for TGS's intended applications. Those applications involve multiple devices encompassing a diverse group of LNG projects, including the highly publicized, LNG fuel bunkering infrastructure project."
The LNG fuel bunkering project supports the International Maritime Organization's (IMO) global initiative to implement more restrictive regulations on NOx and SOx emissions. TGS is planning to address this issue, starting in South Korea by constructing an LNG fuel bunkering infrastructure that provides easy access to clean burning, lower cost LNG for all shipyards and ship operators of small to mid-sized vessels. According to the statement, a significant step toward establishing this infrastructure was made in March this year, when TGS received an order from the South Korean government's Ministry of Oceans and Fisheries for the first LNG storage and bunkering barge: a key component of the prototype supply system to be built and tested.
Paul Chute, CEO of RadMax Technologies, said: "While the details pertaining to the number of projects and types of RadMax devices involved are confidential, we can state that all projects promote the environmental, cost and other beneficial properties of the RadMax devices and LNG to reduce GHG emissions and/or re-capture energy from sources not viable with incumbent technologies. RadMax is eager to begin work on this exciting collaboration with TGS to demonstrate the value and versatility of our devices and LNG."
Read the article online at: https://www.lngindustry.com/liquid-natural-gas/02102019/radmax-technologies-and-trans-gas-solution-sign-lng-mou/
You might also like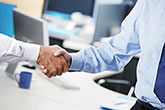 Commonwealth LNG has bolstered its management ranks with the addition of George Nemeth as Chief Commercial Officer, and Dan Fleischer as Senior Vice President, Finance.