---
Rob Patterson and Myles Mantle, UK, and Liza Mark, China, Haynes and Boone, take an in-depth look at the Chinese LNG market.
For more than a decade, China, together with Japan and South Korea, has been the principal driver for the growing world market for natural gas and LNG.
2006 saw the first volumes of LNG begin to arrive on China's shores. By 2015, imports of LNG had increased to approximately 20 billion m3/yr, with the pace of imports increasing rapidly thereafter, reaching 75 billion m3/yr in 2018. Further growth in imports is expected, with figures of 100 billion m3/yr by 2020 and 155 billion m3/yr by 2025 predicted by some observers. China is now the world's second largest importer of LNG and looks on track to overtake Japan into top spot within the near future.
Several factors have been driving the growth. Rising urbanisation and industrialisation have fuelled demand, with industry accounting for approximately 40% of China's gas consumption. Increased use of gas for power generation has also been a significant factor, with policymakers as keen to wean the power industry off an over-dependence on coal (approximately 70% of China's electricity currently comes from coal-fired plants) as they are to improve the polluted skies of Beijing and other cities. Much of northern China, which has historically relied on abundant coal resources for heating, has been shifting to gas in a major initiative to reduce air pollution. In addition, China has signed up to the emissions reduction commitments set out in the United Nations Paris Agreement.
With gas currently accounting for only around 7% of total energy usage in China, there is considerable scope for demand to rise significantly, with some commentators predicting a rise to approximately 14% by 2030. However, gas faces competition. It is five times more expensive than coal, which is likely to remain a key part of China's energy mix. Indeed, with China's economy proving comparatively sluggish in 2019, there are signs that coal is making somewhat of a comeback, with a recent report by Global Energy Monitor suggesting that a further 148 GW of coal-fired plants (a figure not far off the current coal-fired capacity of the whole of the EU) are either under active construction or under suspension and likely to be revived across the country.1 In addition, more than half of the 5 million plus households due to move away from coal are expected to switch to non-gas heating, such as clean coal and electricity. Recent years have seen an increased focus on renewable energy projects too, with China leading the world in installed renewable power generation capacity, although many installations still have little or no access to the national electricity grid. Indeed, many regard natural gas and LNG as a mere stepping stone in the global energy transition, aimed at reducing coal use in the short to medium-term, before a switch to alternative and renewable energy sources further down the line.
Diversification of supply remains a key policy
China's thirst for LNG remains just one aspect of its demand for gas, as its policymakers seek supplies via a range of sources and routes. Given the significant reliance on foreign gas (which made up almost 45% of consumption in 2018), diversification has been an increasingly important aspect of China's overall security of supply strategy in recent years. This is reflected both in the range of countries from which LNG import deals have been struck (including Qatar, Australia, Malaysia, Mozambique and Russia) and in the numerous deals for pipeline gas from neighbouring countries that are now in place.
SHEARER, C., YU, A. and NACE, T., 'Out of step: China is driving the continued growth of the global coal fleet', Global Energy Monitor, (November 2019), https://endcoal.org/wp-content/uploads/2019/11/Out-of-Step-English-final.pdf
This is an abridged version of an article that was originally published in the March 2020 issue of LNG Industry. The full version can be read here.
Read the article online at: https://www.lngindustry.com/liquid-natural-gas/02032020/the-rise-of-china/
You might also like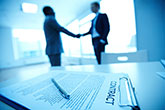 OMV has announced the signing of a long-term sale and purchase agreement with Cheniere Energy, Inc., covering the supply of up to 850 000 tpy of LNG beginning in late 2029.