---
Leading ship operators and the International Association of Ports and Harbours have consulted on a new tool, developed to ensure safer and more sustainable LNG bunkering.
The tool ensures that the responsibilities of bunker facilities operators (BFOs) relating to safe and sustainable business operations are clearly demarcated and that there is a careful examination of how the LNG bunker operations are set up.
This tool has been developed in consultation with international players in the shipping sector, the International Association of Ports and Harbours – IAPH, Titan LNG, Bureau Veritas, large oil and gas companies such as Shell and ship owners such as NYK and Carnival Corporation. The objective is for it to become the standard tool worldwide.
Peter Alkema of Port of Amsterdam and chairman of the working group says: "We fulfil two aims through the IAPH audit tool. First the tool supports port authorities to carry out the decision-making process relating to granting permits to LNG bunker facility operators in their ports in a uniform manner. Secondly the tool gives collaborating ports, which are members of the IAPH, the opportunity to share audit results and information on a BFO's safety performance."
As a result, a port does not have to go through the entire audit process again if a BFO has been audited before. Alkema: "This is also advantageous for BFOs. This is because the BFO does not necessarily have to be audited again when it applies for a permit in a port that is a member of the IAPH. This makes the process more efficient and accessible."
The first ship-to-ship LNG bunker facilities are now being realised in ports, including the Port of Amsterdam where Titan LNG will locate with bunker ship Flexfueler 001 late this year. Port of Amsterdam is also preparing for the arrival of LNG ships in this way. Based on the global order book, the number of LNG-fuelled ships is expected to nearly double by 2024. Research conducted by DNV-GL reveals that LNG will be the transition fuel for shipping in the years ahead en route to carbon-free fuels.
Alkema said the working group is convinced that through the introduction of a standard model for granting permits for LNG bunker operations, it will also be possible to apply the lessons learned and the employed methods to other alternative fuels, such as hydrogen and methanol. "So we are also looking at future sustainable fuels," he concluded.
Read the article online at: https://www.lngindustry.com/liquid-natural-gas/01102018/new-tool-for-safe-and-sustainable-lng-bunkering/
You might also like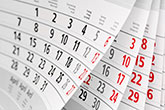 Klaipedos Nafta has carried out a capacity allocation procedure for the Klaipeda LNG terminal, securing full occupancy until 2033.