Prince Rupert Gas Transmission and Blueberry River First Nations sign project agreement
Published by David Rowlands, Editor
LNG Industry,
---
TransCanada Corp. has announced that its Prince Rupert Gas Transmission project (PRGT) has signed an agreement with a Treaty 8 First Nation – Blueberry River First Nations. The agreement highlights both financial and various other commitments and benefits that will be ensured for the duration of project's service.
The PRGT project consists of approximately 780 km of land pipeline and 110 km of marine pipeline, and will link the natural gas production in the Montney fields in northeastern B.C. to the proposed Pacific NorthWest LNG (PNW LNG) liquefaction plant.
Tony Palmer, the President of PRGT, said: "Achieving this agreement with Blueberry River First Nations is another important milestone for the PRGT project […] We consider engagement with First Nations as paramount to our success. We want to ensure we have their input on environmental and cultural impacts and that they benefit from the construction and operation of the PRGT pipeline project."
Chief Marvin Yahey added: "We believe the pipeline project will benefit our members today and for future generations, both financially and in terms of employment for our members […] The relationship we have established with TransCanada is just as important as the agreement, and we are confident that the relationship we have built will continue to the benefit of both parties for years to come."
Although the agreement's specific terms remain confidential, they include access to employment and contracts, and initial and annual payments for the life of the project.
PRGT has also made project agreements with Doig River, Halfway River and Yekooche First Nations, Gitanyow First Nation, Lake Babine Nation, Kitselas First Nation, Metlakatla First Nation and Nisga's Lisims Government.
Edited from press release by David Rowlands
Read the article online at: https://www.lngindustry.com/liquefaction/29102015/prince-rupert-gas-transmission-and-blueberry-river-first-nations-sign-project-agreement-1550/
You might also like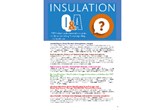 LNG Industry asked several companies to discuss some key factors regarding LNG insulation in our recent November 2023 issue of the magazine.