---
Reuters are reporting that, after spending a decade and billions of dollars developing Australia's vast gas reserves, Chevron Corp and Woodside Petroleum are at odds over the pace and timing of the next leg of expansion.
Shipments of LNG have become one of Australia's biggest exports and a key source of revenue for many energy majors, so any hurdles in the sector's development could strike a substantial blow.
The issue comes down to how quickly to build a shared infrastructure system that would include a major trunk pipeline for transporting gas from mammoth new offshore fields owned by various companies in northwest Australia.
Woodside wants to take the lead in such a project, pushing to build soon so it can go ahead with its US$11 billion Scarborough development, the only new gas field in the region that is primed for a final investment decision by 2020.
But Chevron would prefer to spend more time planning and building such a system, which it says could be led by it or other companies.
"I don't think there are any showstoppers in changing ... to a more shared infrastructure model," Chevron's Asia Pacific exploration and production president, Stephen Green said.
"It's just getting the alignment of all the different parties that want to participate in that value chain and coming up with the structure that satisfies each party's needs."
Companies with stakes in the region's gas fields, including Royal Dutch Shell, BP and BHP Billiton, will need to decide which option to pursue within the next 18 months to ensure untapped reserves are available ahead of a supply shortfall that some industry analysts see emerging from around 2022.
Putting pressure on his peers, Woodside Chief Executive Peter Coleman said last month that any rival would need to negotiate with him by September to get their gas into an infrastructure system led by Woodside.
"They really need to get to us in the third quarter and be very serious about what they're doing, because that window will close," he said at an investor briefing.
Chevron has not put a cost estimate on its infrastructure plan, saying it depends on how big any trunkline is and how many fields it connects to. Woodside has not given an exact estimate of costs for a shared project that it would lead.
"Talk of collaboration is good rhetoric, but there are an awful lot of moving parts," said Wood Mackenzie analyst Saul Kavonic.
Chevron and Woodside are key in Australia's LNG sector as they operate the four LNG plants in Western Australia, and between them have a total of more than 60 trillion ft3 of undeveloped gas resources in the region's offshore Carnarvon and Browse basins.
Until now, all 10 of Australia's LNG developments have been built as megaprojects, with the owners constructing pipelines and LNG plants dedicated to their own fields. Critics say that has wasted huge amounts of money as infrastructure has been duplicated, helping push total development costs to an eye-watering US$200 billion.
Burnt by a cost of US$54 billion in developing its huge Gorgon project off Australia's northwest coast, Chevron wants to change strategy.
"It's our view that that's not the most cost efficient ... way to see resources developed across a large, prolific basin like the Carnarvon," said Chevron's Green.
Cost control is key in a competitive industry in which Australia and Qatar vie for position as the world's biggest producers and in which major new output is seen coming online in places such as the United States, Canada, East Africa and Southeast Asia.
After years of sky-high LNG prices prior to 2014, when Asian spot cargoes sold for US$20 per mmBtu, prices are languishing at half of that.
And the fate of the biggest undeveloped gas resource off Western Australia, the Browse project, where Woodside is operator, will likely remain in limbo until a common infrastructure is built.
But both Coleman and Green expect each other's companies to come around eventually.
"I absolutely am confident we'll work things out," Green said, noting that Chevron and Woodside have long been partners in energy projects.
And the possibility of Chevron or Woodside buying out additional stakes in the region's gas fields and LNG projects could help align interests better to speed up a resolution.
"M&A can play a key role in helping to create alignment across the joint ventures," said Wood Mackenzie's Kavonic.
Read the article online at: https://www.lngindustry.com/liquefaction/15062018/chevron-andd-woodside-vie-to-shape-australias-lng-sector/
You might also like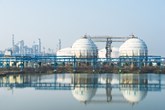 Accurate flow rate measurement during LNG liquefaction is essential. But how do you know if your flow meter can handle potential pressure drops, temperature changes, and the extreme conditions of the cryogenic process? Download Panametrics' new case study to learn how its flow meters can deliver extremely accurate LNG flow measurements.