Next generation LNG terminals set to get smaller to offer greater flexibility
Published by Will Owen, Editor
LNG Industry,
---
Reuters reports that while the LNG market is growing year on year, LNG export and import terminals are shrinking. Indeed, the LNG sector's next-generation infrastructure is being designed for customers looking to purchase smaller quantities and sign shorter, more flexible contracts.
LNG export terminals have traditionally been large-scale, custom-built facilities costing tens of billions of dollars. As a result, to justify the investment, they typically required equally large, long term supply deals (often lasting a decade or more).
In contrast, future projects are featuring new modular-style designs built to snap together like Legos. This allows for small to mid-scale liquefaction or regasification plants that can be expanded if and when demand grows.
These facilities, with far smaller liquefaction units - known as trains - are "more consistent with market conditions," said John Baguley, chief operating officer of Australia-based LNG Ltd, which has proposed mid-scale LNG plants in the US and Canada.
In 2008, the average contract was for 18 years and more than 2 million tpy. By 2016, it had dropped to less than eight years and less than 1 million tpy.
These figures clearly demonstrate a departure from the traditional large-and-lengthy contracts, and a transition to the new trend of smaller and more flexible short term orders.
This impact on LNG terminal design is further evidence to suggest this will be a long term shift for the industry.
Read the article online at: https://www.lngindustry.com/liquefaction/05022018/next-generation-lng-terminals-set-to-get-smaller-to-offer-greater-flexibility/
You might also like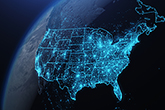 A Seapath and Pilot LNG joint venture will develop, construct, and operate a terminal in the Galveston Bay area supporting LNG-powered vessels.