---
Reuters are reporting that US President Donald Trump expects the EU to fund 9 to 11 LNG ports to absorb "vastly" more shipments from the US but current EU investment in new projects will only help open small markets.
In a White House press conference with Italian Prime Minister Giuseppe Conte late on 30 July, Trump said part of the US-EU trade talks sought to expand America's reach into the continent's gas markets which were awash in Russian supply.
"And we are already talking to the European Union about building anywhere from 9 to 11 ports, which they will pay for, so that we can ship our LNG over to various parts of Europe," he said.
The comments follow trade talks with European Commission President Jean-Claude Juncker last week where Trump said the EU would purchase "vast amounts" of US LNG. Juncker said Europe would build more terminals to handle the influx.
Responding to Trump's latest statements, the European Commission said that bilateral talks helped cement €278 million (US$325 million) in EU funding earmarked for LNG import projects in Croatia, Greece and Cyprus. They are due onstream between 2018 and 2020.
But the projects under consideration for EU funds pre-date the Trump administration and are being developed mostly by private companies over which politicians have limited sway.
On top of that, three-quarters of Europe's existing LNG import capacity lies idle and the new terminals being mulled in niche markets such as Croatia, Greece and Cyprus represent a fraction of the continent's overall capacity.
Croatia's plans have been dogged by delays for at least a decade and the east Mediterranean's rich gas deposits offer a potential alternative to LNG for Cyprus.
The EU is supporting 14 LNG infrastructure projects in total which could increase import capacity by 15 billion m3 of gas by 2021, compared to the continent's existing 210 billion m3 LNG import capacity.
However, the 14 infrastructure projects are not all LNG import terminals. Some are pipelines linking terminals to inland centres of demand.
Europe has little need for US LNG now as Russian piped gas surges into the continent's gas markets at a record pace.
"In 2017 the average utilisation of these terminals was 26% – leaving ample margin for more imports from the US if competitively priced," the Commission said.
Yet competitive pricing is the biggest problem facing US LNG in Europe. The most lucrative markets for US LNG are in South and Central America, India and the Far East, with Europe near the bottom of the list given its relatively low prices and ample supplies from Russia and Norway.
This could change dramatically though as American output soars in coming years and as domestic production from the North Sea and Norway shrinks, leaving a growing gap to be filled by external suppliers.
In a showdown, most analysts believe Russia can undercut US LNG but in practice the producer has avoided flooding the EU by selling its gas below market prices, opting instead to achieve the best return.
There are limits to the growth of Russian gas in Europe.
True, state-run Gazprom has spare pipeline capacity via Ukraine and Belarus to boost exports further.
But plans to build new routes into Europe, such as Nord Stream II, face stiff political opposition which could constrain its longer-term growth.
At a NATO summit this month, Trump said Germany was "captive" to Russia for backing an expanded gas import corridor along the Baltic seabed, known as Nord Stream II, into the country's north east.
Gazprom may also voluntarily seek to limit its European gas market share below 40% in order to avoid attracting scrutiny from competition regulators, Thierry Bros, Senior Research Fellow at the Oxford Institute for Energy Studies, said.
Read the article online at: https://www.lngindustry.com/liquefaction/01082018/us-bets-on-new-european-lng-terminals/
You might also like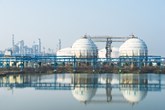 Accurate flow rate measurement during LNG liquefaction is essential. But how do you know if your flow meter can handle potential pressure drops, temperature changes, and the extreme conditions of the cryogenic process? Download Panametrics' new case study to learn how its flow meters can deliver extremely accurate LNG flow measurements.