Liquefaction - 01 August 2018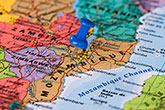 Mozambique LNG is experiencing significant cost savings and its FID is expected in H1 2019.
Lower output at a key LNG project in Papua New Guinea, the PNG LNG project, led to an 18% fall in Oil Search's first-half revenue after it was also damaged in the quake.
US President Donald Trump expects the EU to fund 9 to 11 LNG ports to absorb more shipments from the US but current EU investment in new projects will only help open small markets.