KN to support Snam with the commissioning of Italy's new floating LNG terminal
Published by Jessica Casey, Deputy Editor
LNG Industry,
---
KN has been chosen by Snam FSRU Italia to cooperate in the start-up of a greenfield FSRU-based LNG terminal project in the port of Piombino.
KN, which has established a reputation as a professional and reliable LNG terminal operator and project developer, not only in Europe, but also worldwide, will support Snam in the FSRU installation and subsequent commissioning and testing of the floating LNG terminal.
The new LNG terminal in Tuscany, in the province of Livorno and the west coast port of Piombino, is a strategic project to help ensuring country's energy needs, increasing security of supply and diversification.
The terminal design is based on the FSRU, Golar Tundra, purchased by Snam FSRU Italia, with a capacity of 170 000 m3 and a nominal throughput of 5 billion m3/y of natural gas.
Darius Šilenskis, CEO of KN, notices that in the expanding LNG market there are growing opportunities for the company to get involved in international LNG projects.
"I am glad that KN is helping Europe to enhance its energy independence with its experience and knowledge. Having done our homework in 2014 and ensured alter-natives for the supply of natural gas to Lithuania, today being the main gas supply route to the Baltic region, we can get involved in the implementation of strategic projects of other European countries. We are starting this year with great partnership with Snam FSRU for an equally strategic LNG terminal project. Undoubtedly, one of the most important achievements of the past year was the decision of the German energy giant, Uniper, to select KN to provide commercial operation services for Germany's first floating LNG terminal in the port of Wilhelmshaven on the North Sea coast," said Šilenskis.
According to him, the recent growth of LNG terminal construction projects in the market contributes to such success. Before the Russian invasion to Ukraine only six out of 23 potential LNG terminal projects in Europe were likely to be built. However, as the war continued – the number of such projects has almost tripled to seven-teen.
"We receive enquiries from such project developers, whether for advisory, operational or co-investment activities. Therefore, such increase in the demand for LNG terminal development in Europe opens up even more opportunities for us to utilise our existing knowledge and competences in the new international LNG projects, where we would be selected as consultants, operators or investors," added Šilenskis.
Read the article online at: https://www.lngindustry.com/floating-lng/14032023/kn-to-support-snam-with-the-commissioning-of-italys-new-floating-lng-terminal/
You might also like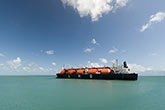 The delivery of the vessels is scheduled between 4Q26 and 4Q27.