---
The exporters
Qatar
Qatar is the global LNG king, but not for much longer. By the end of this decade Australia will surpass Qatar in terms of liquefaction capacity (reaching approximately 85 million tpy) as Qatar has no plans to boost its existing capacity of 77 million tpy. Although Qatar will be displaced from the number one spot, this is not necessarily cause for alarm. The Qatari moratorium on further gas export projects is set to expire at the end of this year but it is likely that this pause will be extended. New upstream projects currently being developed will focus on the domestic market instead. However, beyond 2020, LNG from the US, Canada, and East Africa is likely to provide further competitive challenges for Qatar, while the Russia-China gas supply deal will further prise open Asian gas markets for Russia.
According to the Qatar National Bank, Qatar Petroleum (QP) has Sales and Purchase Agreements that cover over 90% of Qatar's LNG output between 2014 and 2020. New contracts, or extensions of existing ones, will need to replace those agreements after 2020. As a result, Qatar may have to be slightly more flexible in negotiations with LNG buyers who will have a broader set of supply choices in the next decade. Japan in particular – the largest market for LNG – is keen to diversify its sources of LNG supply, with at least two-thirds of its nuclear power capacity unlikely to resume operations following the Fukushima disaster in 2011. Furthermore, prospective new buyers of LNG, such as Pakistan and Bangladesh, as well as some Indian importers, may need some price sweeteners if they are to buy Qatari LNG.
However, Qatar seems assured that it can ride the wave of emerging competitive challenges. QP has teamed up with ExxonMobil (which partners QP in five of Qatar's seven LNG facilities; Qatargas 1 & 2 and RasGas 1, 2, and 3) for the proposed Golden Pass LNG liquefaction terminal on the US Gulf of Mexico coast. The project, which has an estimated cost of around US$ 10 billion, would export as much as 15.6 million tpy.
Qatar may have to be somewhat more flexible when it comes to re-negotiating LNG contracts with its global customers, but its diversity of customers and strong requirements for LNG in the longer term both mean that the Australian, North American and East African LNG waves will not necessarily be catastrophic developments for Qatar.
Yemen, UAE and Oman
Other Middle East LNG exporters include Yemen, UAE and Oman. In 2013, Yemen's Balhaf terminal exported 9.6 billion m3, while Oman's Qalhat and Abu Dhabi's Das Island exported 11.5 and 7.4 billion m3, respectively. The vast majority of these volumes were exported to Asian markets.
Egypt
Egypt has LNG export capacity but volumes have slowed to a trickle due to higher domestic consumption and contractual disputes between the Egyptian government and LNG operators. Still, Egypt's LNG facilities (operated by Union Fenosa Gas and BG Group) may receive gas from Israel, whose offshore Leviathan and Tamar fields will make Israel a net exporter of gas. Such plans, however, are politically sensitive and would need the approval of Egypt's Sisi government. Due to Australia's Woodside pulling out of the Leviathan consortium in May 2014, it is now more likely that the development plan for Leviathan will be an offshore pipeline linking Israel and Turkey, rather than a more expensive LNG terminal, according to Petroleum Economist.2 As with Egypt, however, Turkey may find cementing energy ties with Israel a delicate issue domestically.
With no plans for boosting liquefaction capacity in the short to medium-term, the Middle East's LNG export volumes are expected to remain relatively stable for the time being. Qatar will continue to account for around 80% of the region's LNG exports. Egyptian terminals may receive piped Israeli gas for liquefaction, but it appears that Israeli LNG prospects have receded significantly this year.
Iran
An LNG wild card is Iran. The sanctioned state plans to boost output from its giant South Pars offshore gas field in the next few years, but it may take the lifting of Western energy sanctions for Iran to access the necessary technology for LNG development. Potential Asian buyers of Iranian gas may also come under Western pressure to resist Iranian overtures if there is no resolution to the Iranian nuclear negotiations. In the meantime, Iran has plans to export gas to regional customers via pipeline, namely to Oman and Kuwait. Iran's LNG prospects are, however, unlikely to be realised until the longer term.
Reference:
2. 'Pipelines, not LNG, for East Med gas', Petroleum Economist, July/August 2014, pp. 26 - 27.
Click to read Part One.
Part Three of this article will be available shortly.
Written by Peter Kiernan, The Economist Intelligence Unit. Edited by Ted Monroe
Read the article online at: https://www.lngindustry.com/special-reports/16102014/peter-kiernan-explains-why-lng-imports-and-exports-are-shaping-the-middle-east-lng-landscape-2/
You might also like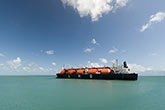 Furetank has turned a former office building into a maritime educational centre with a simulator complex for training, assessment, and certification in Donsö, Sweden.