---
The pursuit to export LNG across the world has been led by international companies with large balance sheets, such as Qatargas, ExxonMobil, and ConocoPhillips. However, on US soil, there is a newcomer to the LNG industry: SCT&E LNG. Originally established by the US telecommunications utility Southern California Telephone Company, SCT&E LNG is the developer of an LNG export terminal that is the largest land-based greenfield project, with a 30-year authorisation from the US Department of Energy (DOE). The project continues to garner attention from the international LNG community as it achieves milestones as a self-financed US development. With the industry moving into an unprecedented period of expansion, the LNG community is watching to see how the next round of US LNG projects will compete in the global market.
This article highlights the commercial and geographic characteristics of the company's Monkey Island Project in Cameron Parish, Louisiana, US. With authorisation from the DOE to export 12 million tpy of LNG to countries with whom the US has a free trade agreement (FTA), SCT&E LNG is moving forward with its plans to export LNG globally from the same ship channel from which LNG was first exported nearly 56 years ago.
World's first LNG vessel
In 1959, the Methane Pioneer, the world's first LNG prototype vessel, successfully delivered LNG from the US to the UK. The ship was originally built as a US government cargo vessel at the end of World War II and was later converted to carry LNG in 1958. She departed Lake Charles, Louisiana, in January of the following year, exiting through the newly dredged Calcasieu Ship Channel, passing Monkey Island, and arriving at Canvey Island in the Thames estuary, east of London. Between 1959 and 1960, the Methane Pioneer made the same journey seven more times...
This article originally appeared in the June 2015 issue of LNG Industry. To read the full version of this article, sign in or register for a free subscription today.
Written by Greg Michaels, SCT&E LNG, USA. Edited by Katie Woodward
Read the article online at: https://www.lngindustry.com/special-reports/16062015/the-future-of-us-lng/
You might also like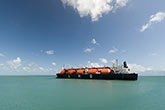 Furetank has turned a former office building into a maritime educational centre with a simulator complex for training, assessment, and certification in Donsö, Sweden.