Gastech unveils 2023 strategic conference programme, high-level keynote speakers
Published by Jessica Casey, Editor
LNG Industry,
---
Global energy experts convening in Singapore for Gastech 2023 will include CEOs, company presidents, and executive chairs of high-level international energy businesses and organisations, including Baker Hughes, Shell, ExxonMobil, and the International Energy Forum.
This year's edition of Gastech is supported by Enterprise Singapore and Singapore Tourism Board, and co-hosted by ExxonMobil, Chevron, Shell, and Venture Global LNG. It will take place at Singapore EXPO, on 5 – 8 September 2023.
Taking place in the build-up to COP 28, Gastech 2023 will elaborate on the ideas, solutions and innovations that will enable the energy industry to manage and deliver the transition to low-carbon energy, whilst continuing to supply the world with its energy needs. Through high-level panel discussions focused on the importance of low-carbon solutions and climate technologies industries, global business leaders will elaborate on the investment and regulation strategies required to ensure global energy security, affordability, and sustainability.
The energy supplies needed in the years ahead, and the need for energy systems to be on track for net zero emissions by 2050, is already heightening the pressure on the investment community. During the Gastech 2023 Strategic Conference, global energy leaders will share insights on the investment landscape required to stimulate adequate funding on both new and existing energy production as well as next generation energy solutions and climate technologies. Shifts in financing strategies, a changing appetite for risk and a demand for greater flexibility are transforming partnership models. As the gas industry both expands and fragments, introducing greater liquidity and optionality, Gastech will examine how new opportunities for partnerships are being established in the global LNG market and demonstrate the resilience and agility of natural gas.
Speakers slated to attend Gastech 2023 include:
Joseph McMonigle, Secretary General of the International Energy Forum (IEF).
Lorenzo Simonelli, Chairman and CEO of Baker Hughes.
Meg O'Neill, CEO & Managing Director of Woodside Energy.
Peter Clarke, Senior Vice President, Global LNG of ExxonMobil.
Alan Heng, Group CEO of Pavilion Energy.
Takayuki Ueda, President and CEO of INPEX.
Russell Hardy, CEO of Vitol.
Michael Lewis, CEO of Uniper.
Akshay Kumar Singh, Managing Director and CEO of Petronet LNG Ltd.
Proscovia Nabbanja, CEO of Uganda National Oil Company (UNOC).
Paul Everingham, CEO of Asia Natural Gas & Energy Association (AN-GEA).
Dan Brouillette, President of Sempra Infrastructure.
Maria Rita Galli, CEO of DESFA.
Iqbal Z Ahmed, Chairman of the Pakistan Gas Consortium.
Paul Varello, Founder and Executive Chairman of Commonwealth LNG.
Andree Stracke, CEO of RWE Supply & Trading GmbH.
Freeman Shaheen, President of Chevron Global Gas.
Federica Berra, Senior Vice President, BP.
Cederic Cremers, Executive Vice President – LNG, Shell.
Simonelli said: "We believe that transforming the global energy landscape necessitates highly collaborative business models and constructive partnerships across the energy industry value chain. We are committed to working together with our partners to drive impactful change and create a better energy future for all. Gastech will facilitate the cross-industry partnerships needed to make a real difference in the global energy sector and improve energy reliability, affordability and sustainability."
Clarke added: "The global LNG market is dynamic and resilient – unlocking its potential is key to meeting society's future energy demand. As co-host of Gastech 2023, ExxonMobil remains committed to driving innovation and providing customers around the world with reliable, lower-emission LNG solutions. Gastech is the premier global platform with the power to accelerate energy leaders' and other stakeholders' shared ambition: providing affordable and reliable energy to a growing population which is seeking a higher standard of living while lowering emissions."
Read the article online at: https://www.lngindustry.com/special-reports/07062023/gastech-unveils-2023-strategic-conference-programme-high-level-keynote-speakers/
You might also like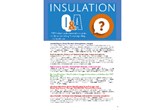 LNG Industry asked several companies to discuss some key factors regarding LNG insulation in our recent November 2023 issue of the magazine.