UPS expands Memphis facility
---
Construction recently began to expand by one-third the UPS® package distribution facility on Swinnea Road in Memphis. The project will add approximately 140 000 ft2 of building space bringing the total to more than 430 000 ft2 at an estimated cost of US$ 70 million. The facility will improve processing rates through increased capacity and expanded use of UPS's next generation sorting technology when completed in early 2016.
UPS recently installed a new liquefied natural gas (LNG) fuelling station on the Memphis property. As a part of UPS's 'rolling laboratory' approach to alternative fuel technologies, 59 new LNG tractor trailers have been placed in Memphis and join other new LNG big rigs fuelling at new stations built in Nashville and Knoxville, Tennessee, and Jackson, Mississippi.
With the expansion, UPS expects to add 350 new jobs over a three-year period to meet volume growth at this site. These jobs include tractor trailer and delivery drivers, package handlers, management, maintenance and support staff. According to the Economic Development Growth Engine for Memphis and Shelby County (EDGE), the project will create nearly US$ 9.8 million in new tax revenue for the metro area.
The larger facility footprint and new sorting technology will handle increasing UPS volume in the mid-South driven largely from double-digit e-commerce volume growth. The facility's automated conveyors will sort packages more efficiently than conventional conveyor systems and six-sided scanning cameras will capture package data and sort packages automatically.
"Facility upgrades will help give us the latest technology and additional capacity to process both ground and air express volume growing from e-commerce business shippers located here, and consumer demand that is driving online retail sales," said Ken Harms, UPS president of the Mid-South District.The Memphis UPS hub is a centerpiece for the efficient movement of package volume between Alabama, Arkansas, Louisiana, Mississippi and Tennessee. The site currently employs more than 1300 employees locally.
Situated on 83 acres of land adjacent to Memphis International Airport, the facility integrates processing both for the UPS air gateway and ground hub, as well as dispatch for local pickup and delivery operations in the area. The company is leasing an additional 27 acres from the Airport Authority which will support an 80% increase in package processing.
Another project component is expansion of the surface yard for tractor trailers to provide a larger staging ground for packages coming into and out of the building.
Some preliminary improvements will be in place by November when UPS increases its capacity for the peak holiday season which is expected to grow from both e-commerce and retail omni-channel distribution patterns.
Adapted from press release by Ted Monroe
Read the article online at: https://www.lngindustry.com/small-scale-lng/26062014/ups_expands_facility_alongside_lng_developments/
You might also like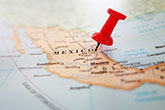 Mexico Pacific Limited and Woodside have signed a sales and purchase agreement for 1.3 million tpy of LNG for 20 years.