Chart continues collaboration with Scania on latest LNG-fuelled coach
Published by Jessica Casey, Deputy Editor
LNG Industry,
---
Chart Industries, Sweden's Scania AB, and Spain's largest coach builder, Irizar, are collaborating on the LNG-fuelled version of Irizar's i8 coach, which will be commercially introduced later this year. Irizar made its debut in the LNG Class II and coach segment in 2021 with the i4, built on a Scania chassis and incorporating Chart designed and built twin cylindrical horizontally mounted cryogenic fuel tanks. The same product and configuration then appeared on the larger i6 introduced for medium and longer distance routes.
Compared to its diesel counterparts, each of the LNG-fuelled coaches emits 25% less carbon dioxide, 85% less nitrogen oxide, and harmful particulates are virtually eliminated from exhaust gases. A driving range in excess of 1000 km (620 miles) is, at least, the equivalent of the diesel model and more than twice that of the compressed natural gas (CNG) versions. The LNG fuel system is also lighter and takes up less space than an equivalent CNG system.
Chart and Scania have been collaborating on LNG fuel tanks for over the road trucking and buses for many years and Chart tanks feature on multiple Scania built vehicles. These include the Interlink LD, the latest version of the inter-city bus used for short and medium routes, school bus traffic, and other suburban routes that was hailed as the world's first alternatively-fuelled inter-city bus when it was launched in 2018.
Proprietary Chart Vacuum TechnologyTM remains durable for years without maintenance and there are no annual inspection requirements or time limits on service life. Safety is always paramount and all Chart tanks supplied for the i4, i6, and i8 coaches are single hose fill, incorporate Chart's patented over-fill protection, have automatic pressure control and relief and automatic fuel shut-off. In addition, the Chart tanks are placed longitudinally on both sides of the coach's central baggage area and isolated from the passenger compartment.
LNG is an optimal fuel for heavy-duty vehicles requiring significant fuel capacity. LNG is vaporised during engine operation using the engine's cooling system. A pressure regulator controls the delivery of gas to the vehicle's engine and maintains a constant pressure. The systems consist of one, or more, super-insulated fuel tanks, ensuring long-time, on-board storage and loss-free operation.
LNG-fuelled vehicles are significantly quieter than diesel equivalents and even the largest LNG trucks are able to meet stringent noise regulations, such as PIEK-standard Quiet Truck.
All Chart vehicle LNG tanks are compatible with bio-LNG without any modification, which further reduces carbon dioxide emissions; typically 80% on a well to wheel basis versus diesel counterparts.
Read the article online at: https://www.lngindustry.com/small-scale-lng/26052023/chart-continues-collaboration-with-scania-on-latest-lng-fuelled-coach/
You might also like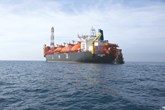 OLT Offshore LNG Toscana has received authorisation to increase its annual regasification capacity from the current 3.75 billion m3/y to approximately 5 billion m3/y.