Gaz Métro welcomes new natural gas legislation
---
Gaz Métro has expressed its satisfaction with the new measures announced by the government of Quebec concerning the use of natural gas as fuel in the freight transportation industry and for heavy vehicles.
The transport sector is responsible for 42.5% of all greenhouse gas emissions in Quebec, making it a priority area for intervention. Within the sector, trucks, freight trains and ships account for almost a third of total emissions, so it is essential to reduce their environmental footprint. For technical and economic issues, natural gas has been selected as the solution for these market segments.
A number of companies in Quebec, including Robert Transport and EBI, have already adopted natural gas. A truck that uses natural gas emits up to 25% fewer greenhouse gas emissions and is up to 40% cheaper than diesel.
Consequently, Gaz Métro has described the government's announcement that it will subsidise 30% of the additional cost, up to a maximum of US$ 75,000, for the purchase of vehicles running on natural gas as a source of fuel, as excellent news.
"The measures announced today are important, because they will help speed up the use of natural gas as fuel, resulting in an immediate reduction of up to 25% in greenhouse gas emissions," commented Sophie Brochu, CEO of Gaz Métro.
Gaz Métro also commented that it would emphasise the proposed measures in the government document to reduce greenhouse gas emissions in the marine and railway sectors by encouraging the use of alternative, cleaner fuel such as natural gas.
Adapted from press release by Katie Woodward
Read the article online at: https://www.lngindustry.com/small-scale-lng/07112013/quebec_introduces_new_natural_gas_legislation_401/
You might also like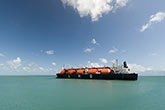 Furetank has turned a former office building into a maritime educational centre with a simulator complex for training, assessment, and certification in Donsö, Sweden.