ESPO urges Europe to reach LNG fuel agreement
---
European Sea Ports Organisation (ESPO) has urged the European Parliament and Council to reach an agreement on the Clean Fuel Strategy before EU elections.
The Parliament and Council are meeting today in a 'trilogue' on the Clean Fuel Strategy in order to reach a compromise and solve any outstanding issues. If necessary, there may be another trilogue in two weeks time. If an agreement can be reached, it can be endorsed by the Parliament before the EU elections.
Clean Fuel Strategy
ESPO supports the Clean Fuel Strategy proposal as a way to promote and enhance the use of alternative fuels as a means to improve the environmental footprint of transport modes.
Commenting on the importance of the Clean Fuel Strategy, ESPO Secretary-General, Isabelle Ryckbost, said: "This strategy is important because it sets out a plan for Member States and stakeholders to work towards alternative fuels. We hope that this strategy is finalised soon, in view of giving the different stakeholders a clear sign on where to go and allowing them to start or continue working towards that goal. We therefore urge the Parliament and the Council to do everything possible to reach a first reading agreement."
LNG refuelling network
One of the issues to be discussed is the deadline for the provision of LNG refuelling points in core network ports.
European ports are in favour of the approach currently taken by both the European Parliament and Council regarding the deployment of LNG refuelling points in core TEN-T ports. The aim should be the deployment of a sufficient network of LNG refuelling points, which should take market realities and distances between ports into account.
ESPO agrees with the Parliament that it is logical for such an LNG refuelling network to be deployed by 2020, in line with the implementation of the new sulfur directive. It is important that the relevant co-funding opportunities for LNG projects are ensured after 2020.
Adapted from press release by Katie Woodward
Read the article online at: https://www.lngindustry.com/small-scale-lng/05032014/europe_must_reach_lng_fuel_agreement_245/
You might also like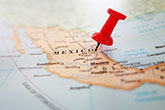 Mexico Pacific Limited and Woodside have signed a sales and purchase agreement for 1.3 million tpy of LNG for 20 years.