Westport achieves second quarter milestone
---
Westport Innovations, the developer of natural gas engines and systems, reported financial results for the second quarter of 2014, and provided an operational update.
Westport recorded a positive adjusted EBITDA from operations of US$1.0 million, compared to a loss of US$ 8.9 million in Q2 2013. This milestone has been attained through significant operational efficiencies, product portfolio optimization, and expense management.
Total revenue
The company's revenue for the quarter was US$ 40.0 million, compared with US$ 34.9 million for the same period last year, an increase of 15%.
Joint venture revenue for the quarter was US$ 79.6 million for Cummins Westport Inc., and US$ 133.1 million for Weichai Westport Inc.
Increased product revenue
On-Road Systems revenue for the quarter increased by 57% to US$ 11.6 million, compared with US$ 7.4 million in Q2 2013. This was primarily due to increased sales of new products such as the Westport WiNGTM Power Systems for Ford vehicles and shipment of Westport iCE PACK™ LNG Tank Systems.
Off-Road Systems revenue for the quarter increased by 50% to US$ 1.5 million compared to the period a year ago, primarily due to the delivery of two Westport LNG tenders.
Business highlights
Launched Weichai Westport WP12 engine and initiated development of WD10 engine with Westport™ HPDI 2.0 technology.
Expanded Westport's vehicle lineup with the 2015 model year dedicated or bi-fuel compressed natural gas (CNG) Ford Transit Connect and with the bi-fuel CNG Ford F-150, both featuring the Westport WiNG™ Power System.
Kroger announced the purchase of 40 LNG trucks featuring the Westport iCE PACK LNG Tank System and the Cummins Westport ISX12 G engine.
A large European automotive OEM has launched a new CNG version of one of their popular vehicle models and Westport has been chosen to supply the cylinder valves for the next three years.
India's Maruti Suzuki introduced the Celerio Green, a five passenger, bi-fuel car that runs on CNG and gasoline, featuring Westport's natural gas components.
Delivered two LNG tenders to Canadian National Railway.
Comments
Westport CEO, David Demers, released the following statement on the company's quarterly performance:
"For the first time in October 2013 we outlined our path to profitability. We said that our three operating business units combined –Applied Technologies, On-Road Systems, and Off-Road Systems– was going to be positive adjusted EBITDA by the end of 2014.
"The second quarter of 2014 marked a significant milestone for Westport as we achieved this goal by recording a US$ 1.0 million positive adjusted EBITDA from those operating business units. The work invested in resetting our cost structure, rebalancing our product portfolio, and optimizing organizational efficiencies has delivered the change required in our operating performance.
"In the first half of 2014, Westport On-Road Systems, Off-Road Systems, and the Cummins Westport joint venture experienced revenue growth year-over-year. Cummins Westport's shipments in North America increased by 33% year-to-date driven by higher sales in all segments particularly truck applications, up 79% from the launch of the ISX12 G.
"Despite the macroeconomic headwinds and geopolitical uncertainties, we are reiterating revenue growth to be between US$ 175 million and US$ 185 million for the full year in 2014 based on increased product shipments, particularly in our On-Road Systems business."
Outlook
Westport reiterated its revenue guidance of between US$ 175 million and US$ 185 million for the year ended 31 December 2014, which represents a growth of 7 – 13% over 2013.
Adapted from press release by Katie Woodward
Read the article online at: https://www.lngindustry.com/small-scale-lng/04082014/westport-q2-2014-results-1140/
You might also like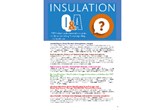 LNG Industry asked several companies to discuss some key factors regarding LNG insulation in our recent November 2023 issue of the magazine.