ROCKWOOL introduces ProRox Mat (Wrap) Insulation with WR-Tech for plant equipment
Published by Abi Larkin, Editorial Assistant
LNG Industry,
---
ROCKWOOL Technical Insulation has recently introduced its next-generation ProRox Mat (Wrap) MA 960 with WR-Tech for large-diameter pipework, vessels, columns, and other plant applications requiring design flexibility. ProRox Mat (Wrap) incorporates ROCKWOOL's proven WR-Tech (water repellence technology), which provides proven protection against corrosion under insulation (CUI) by keeping steel surfaces as dry as possible.
In a plant, water finds its way onto operation-critical equipment and piping systems, even those covered in insulation. The ingress of water, which occurs through every type of insulation, is the main cause of unanticipated heat loss, downtime, and spills due to CUI.
CUI events are expensive, accounting for an estimated 10% of a plant's overall maintenance costs and 40% – 60% of its pipeline maintenance costs. They also negatively impact the plant's health, safety, and environmental (HSE) metrics and damage the company's reputation.
The latest offering in ROCKWOOL Technical Insulation's line of ProRox stone wool insulation products, ProRox MA 960 with WR-Tech effectively combats CUI. The WR-Tech is a binder technology that coats each individual fibre of the ProRox insulation with an inorganic, hydrophobic additive during the production process.
ProRox insulation with WR-Tech has been keeping critical plant systems dry since 2017. The technology was awarded the prestigious AMPP 2019 Corrosion Innovation of the Year Award, one of 10 technologies out of more than 50 nominees to receive the honour.
WR-Tech was first successfully launched in ROCKWOOL's ProRox mandrel wound pipe sections, where it quickly demonstrated reliable, long-term CUI protection and sustained thermal resistance to keep plant processes operating at their peak. Plant engineers are upgrading their specifications to include WR-Tech, while contractors and installers are frequently applying this solution to both new-build and maintenance projects.
"We know that CUI mitigation is a top priority for our customers," said Dan Aiken, Business Unit Director of Americas for ROCKWOOL Technical Insulation. "We developed WR-Tech as part of our ongoing commitment to delivering the highest performance, reliability, and value in applications with a risk of CUI. With WR-Tech as part of our ProRox MA 960 blankets, plant operators can reliably protect their vessels, columns, and large pipework systems – including bends – from CUI."
Read the article online at: https://www.lngindustry.com/product-news/27012023/rockwool-introduces-prorox-mat-wrap-insulation-with-wr-tech-for-plant-equipment/
You might also like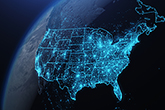 A Seapath and Pilot LNG joint venture will develop, construct, and operate a terminal in the Galveston Bay area supporting LNG-powered vessels.