Largest supplier of LNG to South Korea is RasGas
---
The Qatari company RasGas Company Limited represents the largest single supplier of LNG to South Korea, having completed over 1400 shipments to the country since 1999, under the first long-term agreement. Since this time, two more long-term agreements have been struck and spot LNG sales have also taken place.
Mutually beneficent
At the third annual RasGas reception, held in Seoul, Qatari Minister of Energy and Industry, Dr. Mohammed bin Saleh Al Sada, spoke of a strong relationship between the two countries in a keynote speech. He said: "Thanks to the trust and the excellent working relationships established with our Korean buyers and partners, we are very proud to be one of the largest suppliers of energy to Korea".
1/3 of Korea's total LNG demand
"KOGAS is the foundation customer of RasGas and is the largest single buyer of LNG in the world. Qatar is projected to supply over 13 million tons of LNG to South Korea this year, sourced primarily from RasGas, but also from its sister company Qatargas. Qatar is projected to safely and reliably deliver nearly one third of Korea's total LNG requirement in 2013," Al Sada added.
RasGas CEO, Hamad Rashid Al-Mohannadi spoke of the economic bond between Qatar and Korea and a promising future between the two countries: "We are very privileged to serve the Republic of Korea's growing energy needs and make significant contribution to the economic cooperation between Korea and Qatar. We look forward to sustaining and strengthening this long-term partnership for years to come."
"In January 2011, Hyundai Heavy Industries was awarded a major engineering procurement and construction (EPC) contract for the offshore Barzan Gas Project to supply natural gas, ethane and field condensate to the local market in addition to the export of LPG, plant condensate and sulfur. This project is the largest in the region and is progressing well. We look forward to the successful completion of this mega project, with production expected to be on line in 2014. Our recent completion of the offshore drilling takes the country's landmark energy project one step closer to completion. Construction of Barzan Gas Project offshore facilities surpassed the 80% completion mark," Al-Mohannadi added.
Edited from various sources by Ted Monroe
Read the article online at: https://www.lngindustry.com/lng-shipping/30092013/largest_supplier_of_lng_to_south_korea_is_rasgas/
You might also like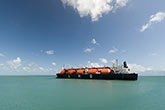 Furetank has turned a former office building into a maritime educational centre with a simulator complex for training, assessment, and certification in Donsö, Sweden.