Golar LNG CEO to step down
---
Golar LNG Limited announced that Doug Arnell has decided to step down as CEO of Golar, effective 1 February 2015.
Arnell's decision, according to the company's press release, is driven by a personal wish to return with his family to Canada. Arnell will be succeeded by Gary Smith, who brings with him a track record of leadership and operational management success in the mid-stream oil and gas, shipping and LNG businesses.
Smith's career spans 35 years, including 25 years with Shell and Caltex Australia in roles including General Manager LNG Shipping for Shell (STASCO) and General Manager Refining, Supply and Distribution for Caltex Australia.
Between March 2006 and September 2009, Smith was CEO of the then smaller Golar LNG Ltd, a position he relinquished to return to Australia for family reasons. Since May 2014, Smith has worked as a consultant for Golar with special emphasis on increasing the utilisation of the shipping fleet.
Arnell will continue to work closely with the company on an advisory basis, to ensure the successful execution of GoFLNG opportunities in Cameroon, Canada and other key locations. He will also be appointed to the board of Golar LNG Partners LP.
In a statement, Arnell said: "I wish to thank the staff and management of Golar, its board of directors, and our investors for their support in reaching some important milestones for the company. I believe we have assets and a future strategy that will unlock very significant further value in the coming years. I am a strong believer in the Golar story and look forward to continuing to contribute to it."
Chairman of the company, Sir Frank Chapman, added: "We have succeeded in these moves to secure an experienced leader and operational manager, known to Golar over many years, to lead our company through the next phase. At the same time, the outgoing CEO has committed his on-going support to our company's critical growth initiatives, thus increasing management capacity and securing a smooth transition at a time of high activity. I wish both Gary and Doug continued success".
Adapted from press release by Katie Woodward
Read the article online at: https://www.lngindustry.com/lng-shipping/19012015/golar-lng-ceo-steps-down-69/
You might also like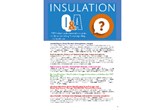 LNG Industry asked several companies to discuss some key factors regarding LNG insulation in our recent November 2023 issue of the magazine.