Freeport LNG receives DOE export authorisation
---
The Department of Energy (DOE) announced on Friday that it has conditionally authorised Freeport LNG Expansion, L.P. and FLNG Liquefaction, LLC (Freeport) to export additional volumes of domestically produced liquefied natural gas (LNG) to countries that do not have a free trade agreement (FTA) with the United States from the Freeport LNG terminal in Quintana Island, Texas.
Freeport previously received approval to export 1.4 billion ft3/d of natural gas of LNG from this facility to non-FTA countries on May 17, 2013. The Freeport Expansion application was next in the order of precedence after the Energy Department conditionally authorised Dominion's proposed Cove Point facility in September 2013. Subject to environmental review and final regulatory approval, the facility is conditionally authorised to export an additional 0.4 billion ft3/d for a total rate of up to 1.8 billion ft3/d for a period of 20 years.
The DOE conducted an extensive, careful review of the application to export LNG from the Freeport LNG Terminal. Among other factors, the DOE considered the economic, energy security and environmental impacts – as well as public comments for and against the application and nearly 200 000 public comments related to the associated analysis of the cumulative impacts of increased LNG exports – and determined that additional volume of exports from the terminal at a rate of up to 0.4 billion ft3/d for a period of 20 years was not inconsistent with the public interest.
Federal law generally requires approval of natural gas exports to countries that have an FTA with the US. For countries that do not have an FTA with the US, the Natural Gas Act directs the DOE to grant export authorisations unless they find that the proposed exports "will not be consistent with the public interest."
The development of U.S. natural gas resources is having a transformative impact on the U.S. energy landscape, helping to improve its energy security while spurring economic development and job creation around the country. This increase in domestic natural gas production is expected to continue, with the Energy Information Administration forecasting a total natural gas production rate of 70.3 billion ft3/d in 2013.
Adapted from press release by Ted Monroe
Read the article online at: https://www.lngindustry.com/lng-shipping/18112013/freeport_lng_receives_doe_authorisation_to_export_additional_lng/
You might also like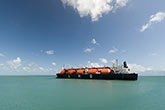 Furetank has turned a former office building into a maritime educational centre with a simulator complex for training, assessment, and certification in Donsö, Sweden.