---
Tough new rules on marine fuel are forcing shipowners to explore LNG as a cleaner alternative and ports such as Gibraltar are preparing to offer upgraded refuelling facilities in the shipping industry's biggest shake-up in decades, reports Reuters.
From 2020, International Maritime Organisation (IMO) rules will ban ships from using fuels with a sulfur content above 0.5%, compared with 3.5% now, unless they are equipped to clean up sulfur emissions. To meet the sulfur rules in 2020, shipping companies can use low-sulfur fuel, install a scrubber and continue to use heavy fuel oil, or switch to LNG.
Using LNG to power ships instead of heavy fuel oil or the lighter marine gasoil can reduce polluting emissions of nitrogen oxides and sulfur oxides by 90 to 95%, according to industry estimates. Analysts at Swiss bank UBS estimate that the green shipping market could be worth at least US$250 billion over the next five years.
The British territory of Gibraltar is in the process of launching an LNG-fuelled power station whose accompanying storage tanks will also be able to be used to refuel cargo ships via barges. Gibraltar already supplies the most marine fuel of any port in the Mediterranean and aims to do the same with LNG, said Manuel Tirado, Chief Executive of the Gibraltar Port Authority (GPA).
"The GPA's aim is to be the number one LNG bunker port in the Med, however, this is something that will not happen overnight," he told Reuters.
The shipping industry is under pressure to cut its emissions of CO2 by at least 50% by mid-century from 2008 levels, after the IMO agreed on a target in April after years of debate. Although still a fossil fuel, LNG emits 10 to 20% less CO2 than even low-sulfur fuel oil.
With rising oil prices over the past year, the appetite for LNG has grown in the cruise ship industry as well as in the container, cargo and tanker sectors. There are currently 125 ships around the world using LNG, according to ship certification experts DNV GL, with between 400 to 600 expected to be delivered by 2020. However that is a still small fraction of a world fleet of more than 60 000 commercial ships.
"Over the last year or so there is a growing consensus among shipowners that LNG is a reasonable next step. It is gaining traction," said Martin Wold, a senior consultant at DNV GL.
But the transition to LNG will take time, with low-sulfur oil-based fuels also used to replace heavy oil. By 2050, DNV GL forecasts that only 47% of energy for shipping will come from oil-based fuels. Gas fuels will account for 32%, and the rest will be provided by carbon-neutral energy sources, such as biofuels and electricity.
One of the challenges in using LNG to power ships has been the investment needed to build the required refuelling facilities. In addition, commercial vessels powered by LNG cost around US$5 million more than regular ships. Retrofitting is also costly as existing ships require space to install much bigger fuel tanks to keep the super-cooled gas from evaporating.
In Gibraltar, the construction of the new LNG power plant by Royal Dutch Shell will help to create some of the required ship refuelling infrastructure.
"The LNG for the power plant will be used solely for the power plant. However, the same marine infrastructure that provides the LNG for the power plant will also be able to be utilised to supply LNG to vessels. The current focus is to deliver LNG by barge," said Tirado.
Tirado added that authorities in Gibraltar were working on a legal framework that would allow ships to be refuelled with LNG in the near future.
Malta is studying the provision of LNG refuelling facilities at its ports and other places such as Barcelona are working on providing LNG bunkering. Zeebrugge and Rotterdam are already supplying LNG via barges.
Elsewhere, several LNG bunkering vessels, from which merchant ships can refuel, have been delivered to operate in locations such as the Amsterdam, Rotterdam, Antwerp region, the North Sea, the Baltic Sea and the coast of Florida.
"We are reaching a tipping point where shipowners are starting to commit to LNG-fired ships at scale," said Maarten Wetselaar, Head of Integrated Gas and New Energies at Shell.
French container shipping line CMA CGM, the fourth biggest in the world, has said it has ordered nine mega vessels for delivery from 2020 which will be powered by LNG, one of several options it is pursuing.
"Replacing the entire fleet with long-term solutions will take years so the group is committed to implement several solutions during this period," CMA CGM said.
Read the article online at: https://www.lngindustry.com/lng-shipping/16082018/imo-sulfur-cap-rules-spark-increasing-appetite-for-lng/
You might also like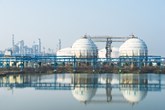 Accurate flow rate measurement during LNG liquefaction is essential. But how do you know if your flow meter can handle potential pressure drops, temperature changes, and the extreme conditions of the cryogenic process? Download Panametrics' new case study to learn how its flow meters can deliver extremely accurate LNG flow measurements.