---
Capital Product Partners L.P. (CPLP) has entered into an umbrella agreement with Capital Maritime & Trading Corp. and Capital GP L.L.C. (the general partner) providing for the acquisition of the following 11 newbuild LNG carriers from Capital Maritime for a total acquisition price of US$3.13 million.
The vessels will be purchased through the acquisition of 100% of the equity interests in the applicable vessel-owning company. The LNG carrier Amore Mio I has been delivered in October 2023, and the company expects to acquire its vessel-owning company on or about the closing date of the umbrella agreement.
Jerry Kalogiratos, CEO of our Capital GP, commented: "We are very pleased to announce this transformative transaction for the Partnership, which we expect to usher Capital Product Partners L.P. to a new chapter in its life as a public listed entity. Upon completion of the 11 LNG carrier fleet acquisition, we expect CPLP to transform, into one of the largest US listed shipping companies in terms of enterprise value and the largest owner of two stroke, latest generation LNG carriers compared to the current fleet of its US listed peers. The commitment to change the name of the partnership to 'Capital New Energy Carriers L.P.' and to gradually divest our container vessels, reflects our renewed business focus on LNG and energy transition shipping. We are well positioned to take advantage of the strong fundamentals of the LNG industry with six open LNG carriers delivering between 2026 – 2027 and rights of first refusal on a unique fleet of LCO2 and ammonia carriers. We believe that this transaction, together with our stated intention to convert the partnership into a corporation and to review over time our capital allocation policy, should attract additional investor interest and allow our equity valuation to move closer to our peers."
"Importantly, the acquisition of the 11 LNG carriers is expected to be transformative across all financial and qualitative metrics for the partnership, as we expect our contracted revenues to increase by 87% to US$3.1 billion, our revenue weighted charter duration to 7.2 years as of the closing date and the average age of our LNG fleet to decrease to 3.2 years by the time all LNG carriers have been delivered in 2027."
"Finally, I am pleased to see our largest unitholder and sponsor, Capital Maritime, fully backstop at no additional cost and at a 9.6% premium to the last closing price a US$500 million rights offering and offer an attractively priced US$220 million seller's credit to partly finance this transaction, while giving a right of first refusal on all LNG business and its New Energy newbuilding vessels to CPLP. We believe that the rights offering with the Capital Maritime backstop will allow for all our unitholders to participate without execution risk in the transition of CPLP to an LNG and energy transition focused corporation, which we hope to become a bell weather for the industry."
Read the article online at: https://www.lngindustry.com/lng-shipping/15112023/capital-product-partners-acquires-11-newbuild-lng-carriers/
You might also like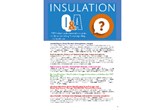 LNG Industry asked several companies to discuss some key factors regarding LNG insulation in our recent November 2023 issue of the magazine.