---
CIMC Enric Holdings Ltd and its subsidiaries have announced that CIMC Blue Water Technology Development (Guangdong) Co., a subsidiary of CIMC Enric, successfully delivered a batch of 29 LNG conversion vessels to its customer Zhuhai Port Shipping Co. Ltd, a subsidiary of Zhuhai Port Holdings Group Co. This is the largest delivery of a single batch oil-to-gas converted vessels in China and also an important achievement in the 'gasification of the Pearl River' project undertaken by the company in Guangdong Province.
In August 2022, the Guangdong Provincial government issued a plan for the development of multimodal transport to optimise and adjust the transport structure. The plan targets upgrading the green level of equipment and facilities to reduce shipping pollution and intends to deliver the first batch of 50 new LNG single-fuel-powered ships and 300 oil-to-gas vessel conversion tasks. Guangdong Province vigorously promoted the conversion and new construction of LNG-powered vessels. As a result, in 2022, Guangdong Province overtook Jiangsu Province as the top province to accommodate inland waterway LNG-powered vessels. As of the end of 2022, CIMC Enric had completed the conversion of 78 vessels, including the current batch delivery of 29 vessels for Zhuhai Port Group. This is the largest single batch of oil-to-gas converted vessels delivered in China. The company plans to deliver an additional 15 vessels to customers in early 2023.
As the pioneer of green shipping solutions in China and the contractor of the Guangdong Green Shipping 'gasification of the Pearl River' demonstration project, CIMC Enric is committed to promoting clean energy in in-land waterway through its oil-to-gas vessel conversion business. The company has joined hands with numerous industry partners to actively participate in promotion of LNG-powered vessels conversion led by the Guangdong Provincial Government. It also addresses the challenges of the difficult and slow refuelling process for LNG fuel tanks by providing a comprehensive solution covering LNG-powered vessels, bunkering stations, LNG-related equipment, LNG receiving stations and LNG supply assurance, along with an innovative LNG fuel tank replacement demonstration solution for vessels.
The company has been advancing the gasification of the Pearl River with the completion of the first batch of single or multi-LNG-powered vessels in Zhaoqing, Zhongshan, and Qingyuan in the Guangdong Province. The power systems and related equipment designed by the company use state-of-the-art technology and produce near-zero emissions, which allows customers to save fuel while meeting energy and emission reduction targets.
By replacing traditional fossil fuel with natural gas, carbon emissions can be reduced by over 20%, sulfur oxide emission eliminated, and particulate matter reduced by over 90%, which satisfies the green shipping targets for environmental protection. By 2025, Guangdong will have converted 1500 natural gas vessels for inland water-way shipping. In September 2022, five national ministries jointly issued the 'implementation opinions on accelerating green and intelligent development of in-land waterway vessels'. This statement requires the increase of green-powered vessels such as LNG, battery, methanol, and hydrogen fuel to achieve demonstration applications in the Yangtze River, Pearl River, Beijing-Hangzhou Canal, and Minjiang River basins, significantly reduce pollution emissions from inland waterway vessels and form a new modal of green and intelligent operation and development for in-land waterway vessels that is replicable, promotable and sustainable.
CIMC Enric Technology Innovation Sharing Centre General Manager and CIMC Blue Water Chairman, Li Dong, said: "As a leading supplier of clean energy equipment onshore and offshore, the company has been working with Zhuhai Port Group and other partners to promote national green shipping. The Guangdong Provincial government has also provided immense support for this project. With the company's skids, tankers, barges, shore-based bunkering stations, and other full industry chain equipment manufacturing and intelligent solution capabilities, we significantly facilitate oil-to-gas vessel conversion and the construction of bunkering networks. Currently, we have already established an oil-to-gas conversion business for ships in the waterways of Yangtze River, Beijing-Hangzhou Grand Canal, and Pearl River. We will continue promoting the use of LNG in the marine transportation industry and advance the research and development of new energy technologies such as green methanol and hydrogen energy to help China's major waterway systems achieve green shipping."
Zhuhai Port Shipping Company General Manager, Kuang Jiangfeng, added: "As the largest port and shipping enterprise and a leading new energy investment holding group in the Pearl River West Region, Zhuhai Port Group embraces the national 'dual carbon' goal as its responsibility and is committed to promoting the development of green shipping on Xijiang and Yangtze rivers. Guangdong inland waterway shipping green development demonstration project is the largest green shipping demonstration project in China. This batch delivery is an important step for us to tackle the high level of pollution created by the shipping industry. We will vigorously implement the 'green intelligence and strategy' to explore new ways to further the marine transportation industry's green development. Going forward, we will continue carrying out our mission to assist the development of green shipping in Guangdong Province and even the whole country."
Read the article online at: https://www.lngindustry.com/lng-shipping/11012023/cimc-enric-delivers-lng-conversion-vessels-to-zhuhai-port-group/
You might also like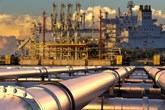 At every stage of the LNG process – from pretreatment to transportation – accurate and reliable measurements are essential for optimising production, maintaining safety, and ensuring profitability.