Anthony Veder has announced that it has completed the retrofit of its 6500 m3 LPG/LEG/LNG carrier, the Coral Anthelia.
Dual-fuel engine
The carrier has been retrofitted with a dual-fuel engine that enables it to run on boil-off gas (BOG) when transporting LNG. The vessel is now operational in the North Sea and Baltic Sea, and regularly loads LNG at the Gate terminal in Rotterdam, the Netherlands.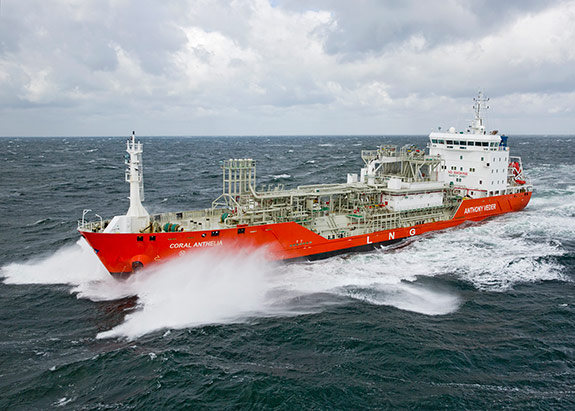 "This great result was achieved by committed partners working effectively together in a trusting and safe way. Not only was this project completed ahead of time and within budget, it was also executed without any safety incidents. This breakthrough innovation in the use of LNG for short sea shipping shows that retrofitting a tanker to run on LNG is both technically and financially viable", said CEO Jan Valkier.
BOG as fuel
The vessel was delivered to Anthony Veder in 2013 with a conventional six-cylinder MaK M43C diesel engine. With the vessel's design already optimised for ethylene trading, a target was set for the consumption of BOG as fuel when carrying LNG, without completely replacing the existing engine. The solution was found by retrofitting the engine to make it a MaK M46 dual-fuel engine.
Anthony Veder performed the overall planning and operation, in close collaboration with Damen Shiprepair, Bolier, Croon Elektrotechniek, Leemberg and Eekels. The team managed to carry out the works in under five weeks.
Adapted from press release by Katie Woodward
Read the article online at: https://www.lngindustry.com/lng-shipping/04032015/lng-carrier-engine-retrofit-complete-358/