---
Total's Board of Directors met on 29 October 2019, to approve the Group's 3Q19 financial statements.
Highlights since the beginning of the third quarter 2019:
Finalised acquisition of Anadarko's stake in Mozambique LNG.
Launched Arctic LNG 2 project in Russia.
Expanded partnership with Adani to supply and market natural gas in India.
Signed agreements with Benin to develop LNG market there.
Started production at Johan Sverdrup in the North Sea.
Expanded Brazil pre-salt footprint with new deep offshore exploration license.
Inaugurated 1000th Total service station equipped with solar panels.
Launched construction of third solar farm in Japan.
Alliance with Envision in the fast-growing distributed solar energy market in China.
Acquired renewable energy company Vents d'Oc in France.
Increased ethylene production capacity by 30% at Hanwha Total Petrochemical in South Korea.
Announced creation of a digital factory to accelerate the digital transformation of the Group.
Commenting on the results, Chairman and CEO Patrick Pouyanné said:
"The Group continues to achieve solid results despite a third quarter environment compared to a year ago that was marked by an 18% decrease in the Brent price to US$62/bbl and gas prices that fell by about 55% in Europe and Asia.
Cash flow (DACF) was essentially stable at US$7.4 billion compared to a year ago, thanks to production growth of more than 8% from cash flow accretive projects. Year-to-date cash flow from the iGRP segment increased by nearly US$1 billion, driven by LNG production growth of 55% (Yamal LNG in Russia and Ichthys in Australia). Thus Total reduced its organic pre-dividend breakeven to less than US$25/bbl.
In this context, adjusted net income was US$3.02 billion in the third quarter and nearly US$9 billion in the first nine months of the year. The return on equity was 10.3%.
In Exploration & Production, the Group continues to high-grade its portfolio, particularly in Norway with the start-up of Johan Sverdrup and in the UK with the ramp-up of Culzean and the sale of high-breakeven mature assets. In Exploration, the Group became operator of a new high-potential pre-salt exploration block in Brazil and participated in two discoveries in Guyana.
The Group continues its dynamic strategy of growth in natural gas to contribute to the energy transition in concrete terms with the acquisition of Anadarko's stake in Mozambique LNG, the launch of the Arctic LNG 2 project in Russia and the investment in the gas marketing partnership with conglomerate Adani in India.
It also continued to grow in low carbon electricity by adding 500 MW of new projects in France during the quarter, launching the construction of a third solar farm in Japan and joining forces with Envision to develop distributed solar projects in China.
Strong performance of the Downstream from leveraging its diversified portfolio of activities confirms the effectiveness of the integrated model. Downstream cash flow was US$2 billion in the third quarter, up 14% year-on-year.
Total maintains a solid financial position with gearing of 17.2% excluding capitalised leases (21.1% including). In accordance with the decision of the Board of Directors announced on 24 September, the Group is accelerating dividend growth and will distribute the third interim for 2019 in the amount of €0.68 per share, an increase of 6% compared to 2018. In addition, given the resilience of its cash flow, the Group bought back US$1.15 billion of its shares through September and will buy back a total of US$1.75 billion of its shares in 2019."
Read the article online at: https://www.lngindustry.com/liquid-natural-gas/31102019/total-has-declared-its-3q19-results/
You might also like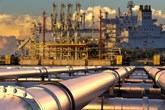 At every stage of the LNG process – from pretreatment to transportation – accurate and reliable measurements are essential for optimising production, maintaining safety, and ensuring profitability.