LNG - 28 October 2021
Safety io's Grid safety software platform recently won the 'New and Innovative Solutions' award.
The companies have entered into a collaboration agreement to pursue lower-carbon LNG design solutions for the future phases of the MPL LNG Project.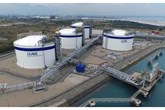 Singapore LNG Corp. has chosen SAP to help optimise its business processes with real-time data insights.