First State Investments joins OLT Board by taking over Uniper shares
Published by Will Owen, Editor
LNG Industry,
---
OLT Offshore LNG Toscana (OLT) has announced that its Board of Directors has formalised the transfer of shares held by Uniper, equal to 48.24%, to First State Investments. The existing shareholders, Iren Group (49.07%), also through its subsidiary ASA, and Golar LNG (2.69%) maintain their holdings.
First State is looking forward to working together with its co-shareholders, other stakeholders and employees to ensure OLT continues to provide a safe and reliable service, contributing to the long-term security and diversification of supply in Italy.
In order to guarantee continuity in the strategic goals and noting the excellent operating results achieved to date, Giovanni Giorgi, currently OLT's Operations Manager, has been appointed Managing Director (MD). Giovanni Giorgi will replace Richard Fleischmann. Giovanni Giorgi will be jointly responsible with Alessandro Fino, Managing Director, who has held the role since December 2014.
"I am particularly proud and excited about this new role", stated Giorgi, "I would also like to stress that my commitment will be maximum and it will be aimed at protecting the priorities of the OLT Project and all the members that I deeply respect. I also want to share this personal and professional satisfaction with all the people who have been working and are still working in OLT, with our industrial partners, and with all the authorities that have always guided us in this long journey."
"Without them the project, in which I have been involved since the beginning, would never have become a company that works day by day to provide a contribution to our country, in such a strategic sector as energy security; with the highest consideration of the territory that hosts us and to which I am very close", continued Giorgi.
This corporate change comes at a time of full operations for the terminal. Recently, FSRU Toscana received its 50th LNG carrier, for a total of regasified LNG equal to about 6.7 million Mcliq. In recent years FSRU Toscana has received cargos from all over the world: Algeria, Cameroon, Egypt, Equatorial Guinea, Nigeria, Norway, Peru, Qatar, Trinidad and Tobago, the EU and the US.
"According to the National Energy and Climate Plan, which invokes the maximum exploitation of existing infrastructures", stated Alessandro Fino, "the data confirms the significance of OLT Offshore's contribution to the security and the diversification of supply. Moreover, our terminal is working at full operation, in a safe way and is offering the widest guarantees of environmental sustainability, as confirmed by the achievement of EMAS registration."
"I want to thank Uniper", continued Fino, "for the precious contribution given us, in these years, to the development of the company. The collaboration with First State Investments, that I warmly welcome, starts a new chapter in OLT's history. We are sure it will be characterised by stability and growth also thanks to the new small scale LNG service that we intend to offer starting from 2021."
Read the article online at: https://www.lngindustry.com/liquid-natural-gas/28052019/first-state-investments-joins-olt-board-by-taking-over-uniper-shares/
You might also like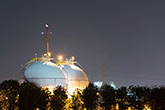 Gate terminal B.V has selected VINCI Construction Grands Projets – Entrepose Contracting, Sener, and Sacyr Proyecta to execute the expansion of the terminal with a fourth LNG storage tank.