Volvo's new gas-powered truck filled at Calor LNG refuelling station
Published by Will Owen, Editor
LNG Industry,
---
Volvo Trucks has begun shipping its new gas-powered truck to the UK and has chosen Calor's LNG facility, at Donington Park Services, for its first UK fill-up.
Located off the M1 motorway at Junction 23a, the publicly-accessible LNG refuelling station is one of seven available from Calor in the UK. This network is set to play a vital role in supporting the growth of sustainable transports, such as Volvo Truck's new gas-powered vehicle.
The new Volvo FH LNG is a gas-powered truck with a powertrain based on Volvo's diesel engine technology. With the 460 hp engine running on LNG, it is capable of delivering 20% less CO2 than a regular Volvo FH truck.
A fuel choice steadily growing in demand for companies operating long-haul heavy goods vehicles (HGVs), LNG offers significantly less CO2 emissions than conventional fuels such as diesel, while dramatically reducing dangerous particulates like NOx and SOx.
A truck running on LNG is also far quieter than one that burns diesel in a combustion engine, so LNG-fuelled trucks can operate for longer in areas where noise restrictions might apply. This is often an issue when HGVs need to deliver to supermarkets located near residential areas, or city centres that impose regulations on traffic and noise levels.
Martin Tomlinson, Head of Product Demonstration (UK & Ireland) at Volvo Group Trucks, commented: "LNG is the fuel that is best positioned to quickly become a competitive and globally available alternative to diesel. The development of our new FH LNG truck is the result of our commitment to transportation that is sustainable in the long term, through energy-efficient, competitive, and future-proof solutions with a low climate and environmental impact."
"Ensuring that the necessary infrastructure is in place to support the uptake of LNG is absolutely critical, which is why Calor's investment in its LNG refuelling network across the UK is so important. Moving to LNG will help cut the long-haul transport industry's dependence on diesel, lower CO2 emissions and help haulage companies meet their customers' increasingly tougher environmental demands."
Mark Gilks, Transport Specialist at Calor, added: "The benefits of LNG for HGVs are clear. With leading truck manufacturers predicting that natural gas-powered vehicles could account for 20% of HGVs sold by the early 2020s, the future opportunities for LNG are really exciting."
"For long-haul HGVs, LNG is a low carbon, competitively-priced fuel solution with good availability. Our publicly accessible LNG refuelling network is the largest in the UK. As well as Donington, we operate stations in Lockerbie, Castleford in West Yorkshire, Lymm in Warrington, Grantham, Wolverhampton, and Bristol. With plans to expand this network further already underway, we are committed to helping the industry towards a more sustainable future."
"It was great to have Volvo's new FH LNG truck fuel for the very first time at our LNG station in Donington, and we look forward to welcoming more LNG-dedicated trucks to our facilities as uptake continues to grow."
Read the article online at: https://www.lngindustry.com/liquid-natural-gas/28032018/volvos-new-gas-powered-truck-filled-at-calor-lng-refuelling-station/
You might also like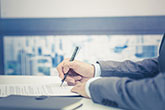 Congo's Ministry of Hydrocarbons has signed a co-operation agreement with Technip Energies that will see the parties expand cooperation in the fields of offshore and onshore energy developments.